Jan 11, 2007
7,178
104
306
My Coop
Thanks Karen!
Hi!
There are 12 fresh Ameraucana eggs (laid 26st,27th,28th) available to go out Tues, 9/29.
Price is $24.00 for 12 eggs and includes USPS Priority Shipping and Delivery Confirmation.
(no extras available, this offer is for 12 fresh eggs)
The Ameraucana are blue, splash, and black hens with blue roo.
You can see some pics of the Am's on 'my page' and more pics of Am's and eggs in this link:
Ameraucana pics
.
Fertility has been good and they ship well.
There is a chance of an 'off-color' chick popping out, but that doesn't happen often. For the most part, they hatch blue, splash, and black.
Here's a link to how you can expect your eggs to be
wrapped and packed for shipping
.
Post sold and send payment if interested. My PayPal is
[email protected]
.
If you have any special instructions like "Hold & Call for Pick Up", or would like them shipped to an address other than the addy in the PP info ---just add that and a ph# in the PayPal note so I don't miss it.
Thanks,

Lisa
ps:
This pic has some of my Ameraucana eggs (A's on the left) compared to some of my other blue/green eggers.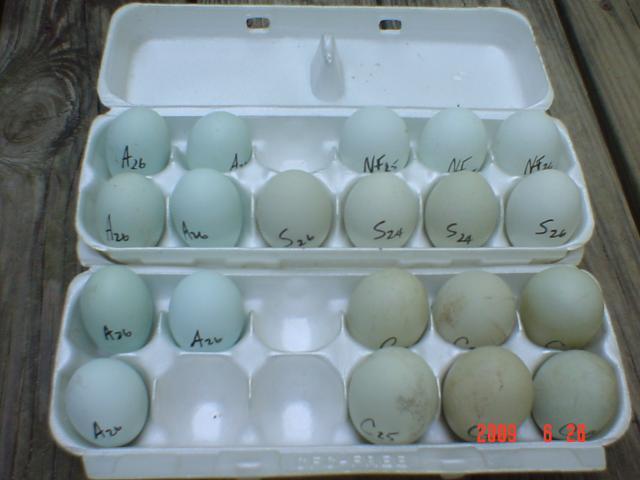 Last edited: