so... I figured I would just post about this, after all if people don't post we wont have anything to read!
I've recently "finished" my own personal homemade cabinet style incubator. I must say, I expected more issues with it's function at this stage. *knock on the wooden bator* It is constructed out of poplar boards ~ 3/4" in thickeness. The whole affair is a 2' cube. I have a tray on the bottom which will be suitable for hatching, 1/4" hardware cloth. One single manual turn egg tray in the center, oak frame and 1/4" hardware cloth. Up top there are two 60 watt bulbs and water pan/s above a shelf. Two computer fans mounted in the rear corners in the back pull air from the egg housing area up in front of the shelf, across the heat and humidity source and then forces it back down into the egg area. My water heater thermostat is mounted hanging from the top shelf in the center to catch the air on it's return path to the heat source after it has cooled during circulation.
It seems to take quite a while to heat up, and of course I haven't done much with it yet in terms of seeing how the temps and humidity are affected when simulating egg turning events by opening the door. The only big issue I've had was that the silicone I used to glue on the plexiglass on the front did not stick to the plexiglass after a couple days of humidity in there. I noticed condensation in between the panes and then... they had to come off. Waited for two days for the new different caulking to dry and it has been running since last night. It seems to hold temp pretty well, though i have not done a simulated egg temp. I have two different digital thermometers in there, only one reading tenths of a degree, and two hygrometers. I have not tried to adjust humidity yet, but as I understand it simple reduction of surface area will result in lower humidity and vice versa. The thermostat has not been fiddled with at all (just guessed where 100 may be and turnedthe screw) recent readings are as follows:
time temp1 temp2 hum1 hum2
1713 100' 100.4' 68% 73%
1920 99' 98.5' 71% 74%
1956 99' 99.2' 71% 74%
2154 99' 99.2' 71% 74%
I feel like a mad chicken scientist

but I'm sure all you homemade incubator people are doing the same things. hopefully i can plan a hatch for my girls on easter. we'll see.
well I guess that's enough blabbing, comments/ questions welcome

and here are a couple photos for your viewing enjoyment (I will take a picture of all the ugly backside later)
Here you can see the same troublesome condensation REoccuring.... pesky glue better hold or I'm gonna get out the duct tape!
btw... the 106' temp in the photo is the "outdoor" temp probe that is setting up by the lights and water.
This is like the sixth time I've edited this, but I just wanted to add that I have never seen the lights off, but surely they are some... what would be the chance of me building the perfect incubator for my house temp that needs no thermostat... HA

not to mention I use a wood burner so my house temp is anyhting but constant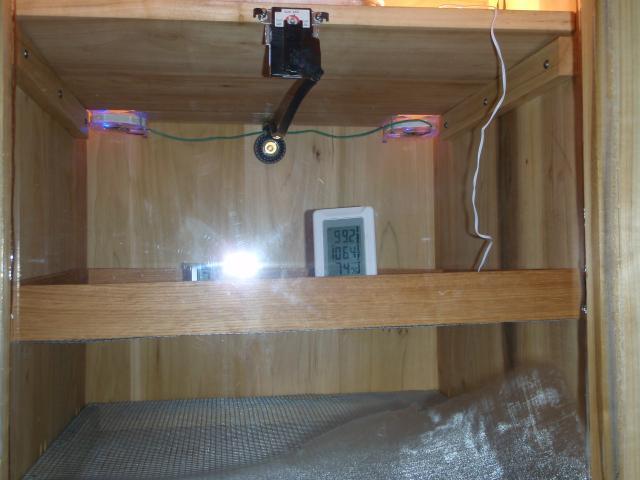 Last edited: