I got a straight run of rarest of rare from Mcmurray HD April 25 ish. Ialso ordered 2 Blue Andalusian Roos and they sent an extra one. My free exotic cuckoo maran is top roo then followed by the 3 Andalusian and the Silver Gray Dorking they do most of the bickering and stuff. Then there are the---
1 Golden Polish
2 White Laced Red Cornish
1 Buff Cochin
1 Splash Cochin
2 Blue Cochin
1 special cochin (melanized patridge was what I was told when younger)
2 Black Langshan
1 Sumatra
16 Roos in total. No stew pots available here and the 11 lower ranking ones don't seem to cause a problem it is the other 5 who stir things up. The dorking really isn't that bad but he a couple specific girls he likes. I have 14 hens (lost 3 at various times) and I have ordered 10 more hens to come Oct 5 week. 4 Andalusian 5 various polish and a silkie for my sons birthday. With the rate of sexing it is possible to get 1 out of my 10 to be roo and hoping not. The Lanshan and cornish I am not that attached to but I love everyone else of the lowere ranking and they get along. I have another old coop that was going to set up next spring for some maybe specific breeding but I am new to this and may not get far should I just make a bachelor pad? They would still be able to hear the others and I free range although they haven't made it over to that area yet and I would be free raning over there once I get a fence up around the yard but they would possibly be able to get out.
The figting between roos is not that bad -yet- but I am worried about the toll it will take on the girls the ones they are most intersted in stay in coop on roost alot or get up on top of the coop roof to be left alone.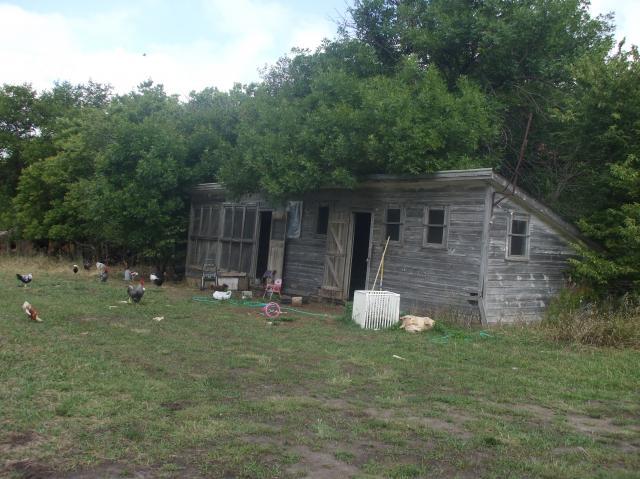 This is the coop they are in and there is another closer to my house that doesn't have a screen room there is a foundation from where on was that I am going to put my dog pen around and also I was wanting to get some ducks next year that I was going to put with the chickens maybe 5 not sure. The other coop beside my house is where I feed cats and kittens were raised this summer. I could possibly divide it into 3 section or 2. I am just thinking too much and need some other ideas or advice so bring forth the knowledge.