It all started with 3 guinea fowls. Well they're gone now

I miss them... but that's another story.
I never intended to keep chickens, but when I got guineas, all the information online said to raise them with chickens ( which I later discovered wasn't such a brilliant idea), so I went out and got 6 chicks. Okay, I estimated I had 5 weeks to build a coop. Well guess what? That didn't happen. I didn't start building my coop *until* 5 weeks in, and it took another 3 weeks to make it livable enough for the chickens. Now it's week 15, and I'm still not done with the shingles yet

. I'll get there.... before winter.
Here it is - my tree coop! It's almost completely made of free wood. The most expensive part of this project were the screws. I got real frugal on this one and probably spent $50 in total. But gosh, I don't ever want to take another pallet apart again!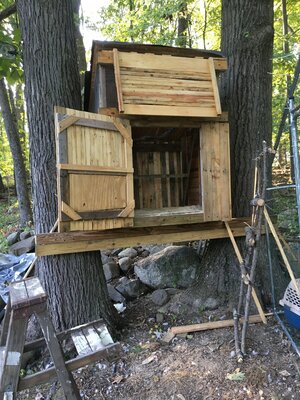 This 4x4 coop houses 5 lovely birds. (Sadly one chick died on the first day)
Let's start with the top of the pecking order...
——-The General (right)——-
She's my black sexlink. A sweet bird who leads the pecking order. She rules with firm but gentle confidence.
She also clucks like it's the end of the world whenever I pick her up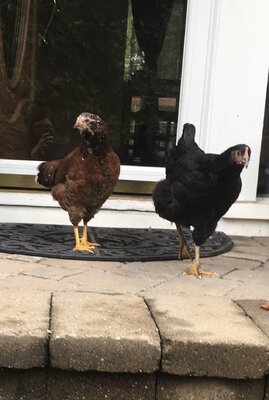 More descriptions to be added later!
but for now... sleep