Jan 28, 2009
3,028
50
266
preparing to finalize winter coop designs
I have a 12x20 shed, of which half is used as my coop. Barn doors face south and will be covered with plastic sheeting on the inside, so i can open the doors and let sun beam in during the day.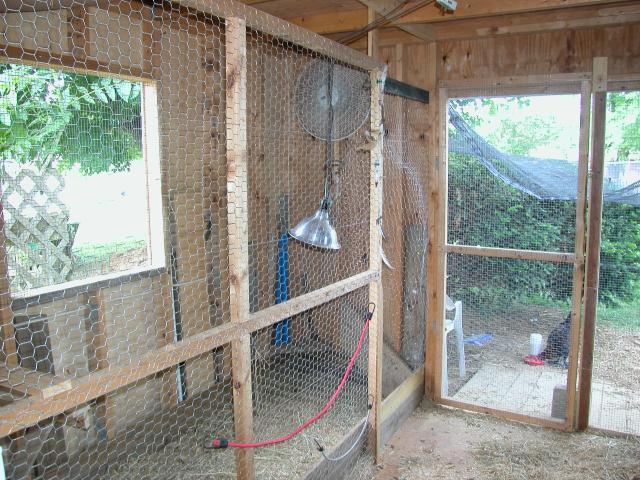 Window on the left faces east of course and will be covered with sheeting, in some sort of frame )with foam insulated edges to deter draft) so I can remove it and replace it (should plan on something for the south door as well - like venting across the top that can be closed....) I'm thinking I will have vents with an overhang or baffle on
all sides of the coop
near the top of course, so that I can open particular ones depending on the wind conditions.
My coop/barn sits in a low spot and I have been able to determine some causes of moisture and humidity (thanks to BYC!) namely splash up along the bottom edges. With that remedied, I still am tackling the challenge of adequate air exchange vs "drafts" with these coming winter months.
I plan to insulate the walls and had thought about
closing up the half shed area of the coop
with some sort of solid barrier be it plastic on outside of the chicken wire panels we have (they are removable panels dividing the shed in two....so we can move one to put the mower in and out. I like flexibility always - everything i have set up so far is movable) or maybe plywood, carboard or luan. heck even a blanket or two would suffice. I am figuring that with less open space, my small flock of 7 (3 & 4) would be able to benefit from heat generated by their bodies in a smaller area. But keeping in mind the need for adequate air flow, I am now wondering if I should just concentrate on making a three sided box at the roost level. Definately no draft on chickens worry then. Still working on the notion....
I guess it would be like a nest box with no bottom - roost box
what do you think
Last edited: