Who:
This is my parrotlet named Tweaky.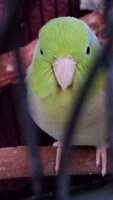 Status:
When he remembers not to squawk, he likes to use attention grabbers such as hanging upside down in his cage and saying peek-a-boo, or his own name, "Tweaky." He believes these strategies to be highly effective and employs them multiple times a day.
Weaknesses:
He stays confused by calling human fingers a "pretty bird." He gets slightly offended when others confuse his gender and refer to him as a "she." He is pretty sure that he is a "he." To prove his masculinity, he violently shakes his purse toy until it (the purse toy) and everyone else knows who is boss.
Vocabulary:
Tweaky believes he has truly mastered the art of the English language in his acquisition of words such as: peek-a-boo, Tweaky, scratchy, kiss kiss, silly bird, pretty bird, as well as various beeps, whistles, and sound effects.
Daily Duties:
He keeps busy by ringing his bell and dropping millet seeds into his clean water to make it dirty. When he wants his head scratched and no finger is readily available, he repurposes a yellow paperclip that hangs in the cage. The paperclip apparently provides a good scratch. He did no more than tolerate me for the first five years I owned him, after which he decided that he liked me, and now spends much of his day attempting to summon me from the other room.
Food:
He will accept no treats other than apples, and the apples have to be Red Delicious apples, because the other kinds aren't good.
Goals:
His best idea of a good day would be sitting on my shoulder and pooping there, multiple times, as needed. However, this is not my idea of a good day.
Accomplishments:
Tweaky is ready and willing to take on any small dogs who roam too close to his domain (cage). My husband would not admit to being scared of Tweaky, but his over cautiousness in the protection of his fingers from this small green bird seems to indicate in the affirmative. Alas, we all have fears, except Tweaky, who has few to none. Tweaky has taken on several opponents and claims domination over:
· pieces of toilet paper
· red yarn
· memo pads
· pink gel pens
· my husband's index finger
· my husband's ear
· my husband's sock (with a toe inside).
I'm not sure why no one else in this household seems to be as personally interested in Tweaky as I am, but I am looking into this issue.