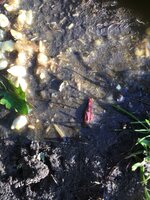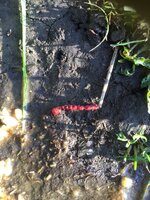 Little Flinga didn't come out yesterday morning and when i lift her out there was instantly liquid coming from her beak.
I took her to the waterbowl but she wouldn't drink (she normally always drinks in the morning)
I tilted her aside and immidiately she vomited. It was sunflower seeds and clear fluid and something more. I thought first it was some blood-slimish intestiment. Bright red 6 cm and worm shaped. I have not fed her this ever. Please look at the pics!
Questions is, did she eat something poisonous? (nothing that i know to be around in the garden)
Could this be a parasite like gapeworm?
FYI; Flinga has had neurotic tics for several months by the way.
But been strong and always hungry like a wolf.