Can anyone tell me what this is? I have found it on several roosters & one hen. It is located at the base of the feathers, on the quills, located just below the rectum on these birds? I first noticed it on a sick hen when I was cleaning her up from diarrhea. I noticed it in the roosters as we were butchering them (too many roosters & they where harming my hens; most humane solution we could come up with).
I pulled one feather and examined it closely. The white 'ball' is spongy & porous in nature. It was very hard to peel away from the quill. Fungus? Parasite Eggs? What is this and how do I get rid of it?
I've searched the internet for over a month and can't find anything that describes this.
WARNING! PICTURES THAT FOLLOW ARE GRAPHIC!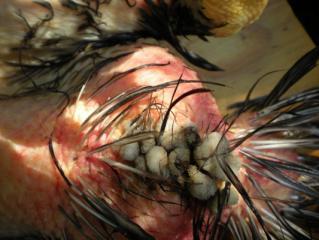 Last edited: