Hens and Honeybees in the Berrypatch
Michigan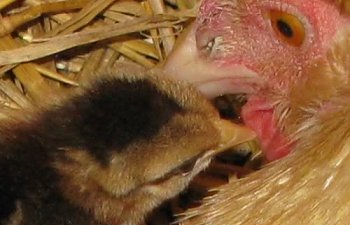 ​
My Orpy hen hatched some OEG Bantam eggs.
This hatchling tormented Mom for several minutes.
​
How many chicks can you fit on a brick?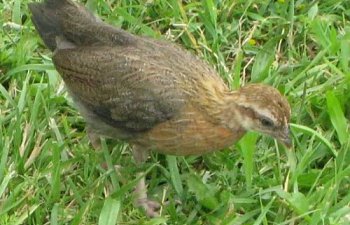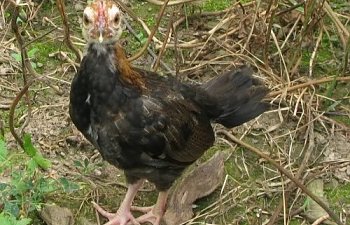 Awkward juvenile stage? BBOEGB (ha...)
We sadly lost this little fella to a neighbor cat. Probably defending his sisters...​
​
Dad and a Mom on right. 1 yr daughter on left. Black Breasted OEG Bantams (not broody)
(Background: Betsy EE broody with Lavender 'cana chicks)
​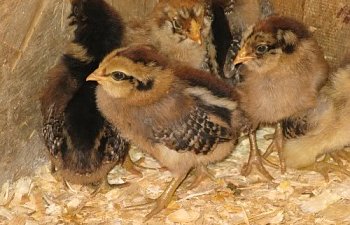 ​
Baby Barnevelder pullets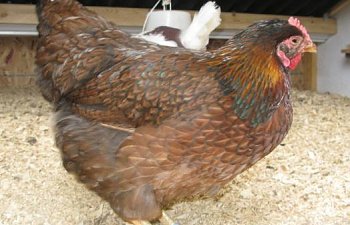 ​
Barnevelder hen year old ​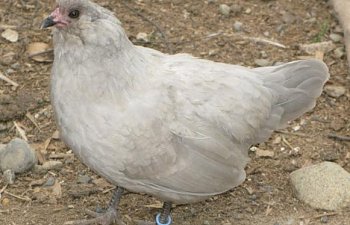 Lavender Ameraucana Bantam hen (John Blehm line)
I love those eyes and the way she looks like a dove...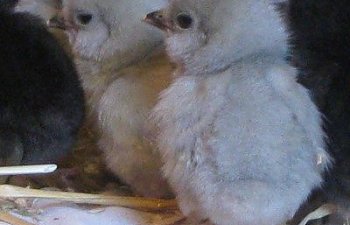 Lavender Ameraucana Bantam chicks hatched out by Large Fowl broody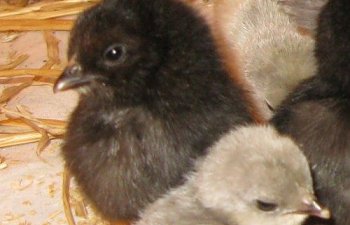 Black chicks = Lavender Ameraucana bantam x BBOEGB hen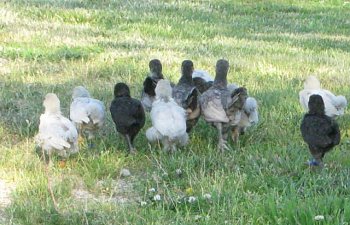 This is all I get after banding them that morning! Chicken run!!!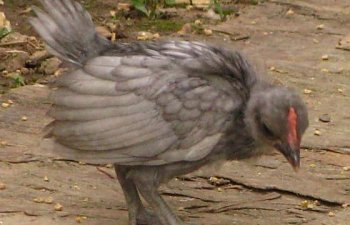 Maybe OEG Blue Bantams? This one was purchased and popped under Betsy with the chicks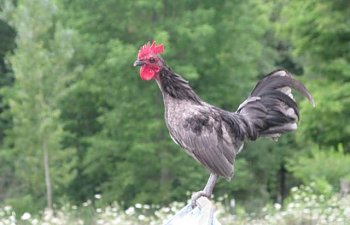 ​
This is his little hen. 3 weeks old?
​
New little "penciled" wing tips on 10 day old
Silver Penciled Plymouth Rock.
​
8.5 week old Silver Penciled Rock pullet
3 Silver Penciled Rock cockerels: 8.5 weeks old, then 21 weeks old: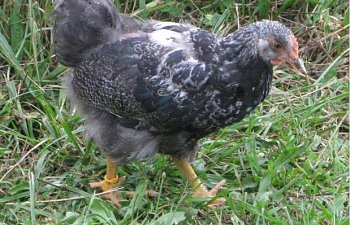 ​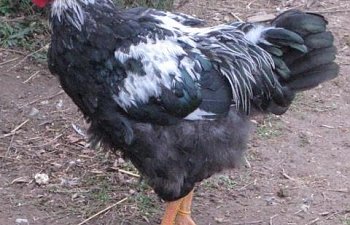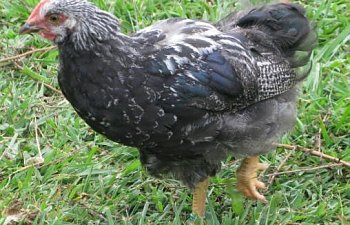 ​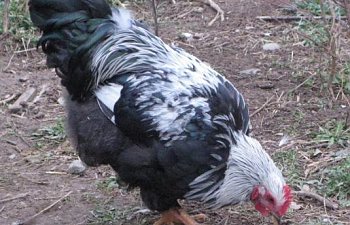 ​
​

​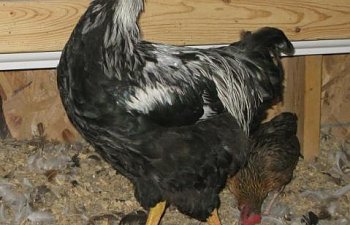 photo credit: Josiah, 13​
Heritage Delaware Pullet in the early morning fog.
​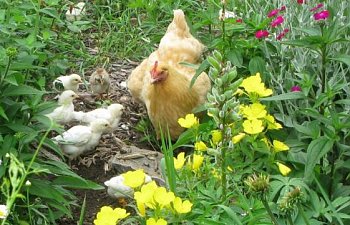 ​
Broody Orpington teaching Delawares and Penciled Rocks how to scratch up my flowerbeds....
"just the weeds, please"​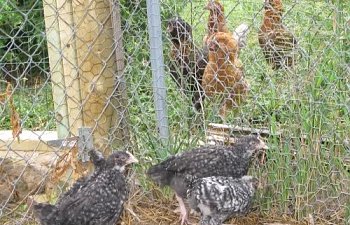 Youngster Cuckoo Marans in outside pen for the first time.
(roo in front on right)
Slightly older Ameraucanas outside suddenly discovering them.
​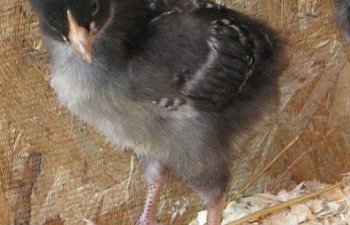 Cuckoo Marans pullet 1 wk old
Cuckoo Marans roos will show more white on them as little chicks.
below: 1 week old roo on left and pullet on right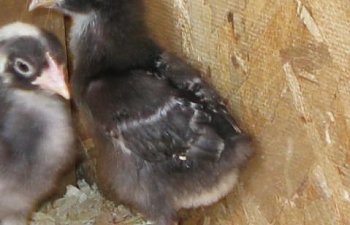 ​
Cuckoo Marans roo at center, pullets to right (and left) at 2 weeks
One Year later:
​
Simon Pierre, Cuckoo Marans roo and one of his hens. 1 yr old
He's so heavy that saddles are needed to protect the hens' backs.
​
​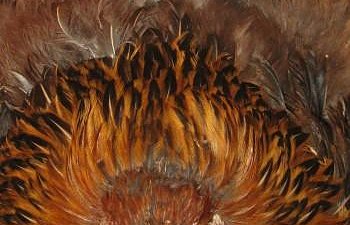 Note how small and pale the comb is while broody
Toaster Black Breasted OEGB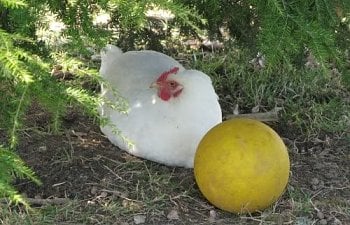 ​
White Plymouth Rock
oversized yolk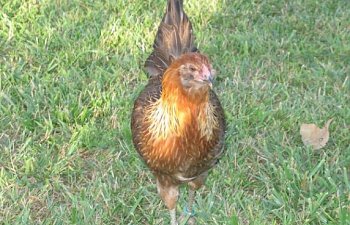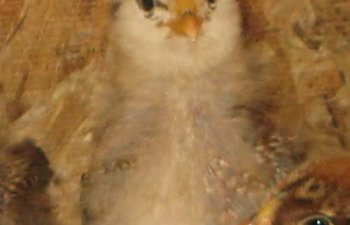 Ameraucana / Easter Eggers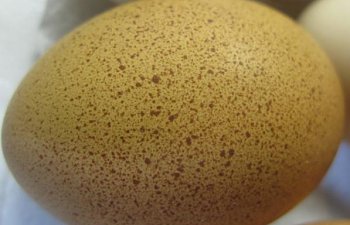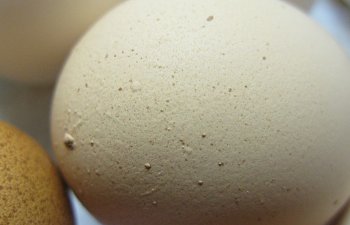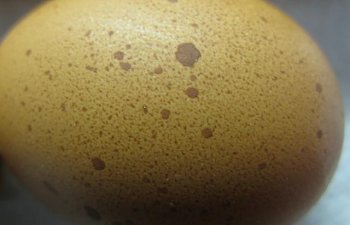 Toaster is our first rooster: Black Breasted OEG Bantam with 3 hens. We also have 4 blue OEG Bantams, 4 Lavender Ameraucana Bantams, 2 Mille Fleur OEG, 3 Buff Brahmas, 4 beautiful crosses, 2 Vorwerks, For Large Fowl we have 9 EasterEggers, 3 Cuckoo Marans, 1 Black Copper Marans, 3 Barnevelders, 3 Javas, 1 cross, 3 Silver Penciled Plymouth Rock, 3 Isa Browns and 6 Heritage Delawares.

Our miniature Australian Shepherd keeps them all in line.
Hens and Honeybees in the Berrypatch