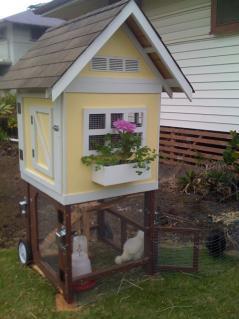 Aloha! Okay, there is really nothing Hawaiian about this cottage coop except where it is located. LOL. But, I thought it was a rather exotic name which might make this page a little more interesting to read. My name is Joan and I have two little silkies, one white and one blue. In my attempt to build them a home, I wanted to make a coop that is both light and functional ... and cute. I live in a small community and I wanted to make sure the coop fit in the neighborhood. I knew that I would need to leave it in the front yard, which means most of the morning traffic passes by. Plus, I have a small yard that my dog needs to share with the chickens so size was definitely a factor. Also, I didn't want bare spots in the yard so I tried to create a coop that was light enough to move around the yard by myself. Together with designs inspired by
MSBEAR
and her husband and others on BYC, this is what I came up with. As you can see, I started with a plan, well, sort of.
.
"The Plan"
​
I'm just including the plan here to prove that I actually put some forethought into this ... until I realized there is a huge difference between having a plan and actually building something that chickens could live in! As Peter Druker said, "Plans are only good intentions unless they immediately degenerate into hard work." So I figured what the heck and just dove in.
I used a combination of recycled wood and some store-bought pieces (Thank goodness for Home Depot's scrap pile. I raided it every week!) I built the frame with 1"x3"s and 2"x2"s and a floor of some redwood tongue and groove that we had. This box is roughly 3 ft long, 2.5 ft wide and 2.5 ft tall. I set the floor flush with the frame so it would be easy for me to sweep the coop:
The first step
​
The wall is 3/8in plywood. At this point, the roof is removable (to keep it lightweight). I just set it up so I could work on it. As you can see, I worked on it with the spare moments I had after work and it often meant working at night:
Here is the skeleton (That's Kanoe, my pup, for scale)
​
These are the two nest boxes I made. They are about 10"x9". I don't know where I read it but there was some advice that 9"x9" were adequate for bantams. It's a bit of a tight squeeze as you will see later.
Nest boxes
​
At this point, I forgot to document my progress ... so here is the coop with the walls done and most of it painted. I like that yellow. It's a happy color. AND, this is about the time we got three straight weeks of rain, which warped the 3/8" plywood walls to the point I couldn't open or close the door anymore. So I rebuilt the door and reinforced it with some braces. The rain also made me realize that my windows were WAAAY too big. I could just imagine my girls freezing their fuzzy butts as horizontal rain shot through their coop. So, I installed a door/window within the side door to open on warm days and close on cold and wet days (see subsequent pics).
Painted in happy yellow
​
Next, I propped the top section on four legs of 2"x4"s that are 2.5 ft long, wrapped it in hardware cloth, and put in the ladder and flower box (below).I also framed the windows and used hardware cloth to cover the windows from the inside, allowing lots of light and ventilation whilst preventing rat and mongooses from stealing eggs (they do that here!).
Then, I installed the asphalt shingle roof on some recycled 5/8" plywood and tar paper, using one ream of shingles (~$26). Hmmm, yes, the ROOF. The asphalt shingles look really great but they are HEAVY! Seriously, it took two strong friends and me to hoist the roof up there! That required a redesign of the coop otherwise, there would have been no way to move it out of my garage! The next question was, "How do I turn a coop into a chicken tractor!??!!"
Lily and Daisy try out their new home.
​
Here's a tour of the coop ... This is the inside:
I figured it would be helpful to keep the hens in the upper floor when the weather got too nasty or when I was moving the coop so I installed a sliding access door that I could close if I needed to:
Access door - open
Access door - closed
​
Creating a ladder with two landings allowed me to install it with a more gradual angle yet maintain space. If I did a straight run, the ramp would have been more like a slide! This is Lily and Daisy, who have already moved in. They were very accommodating and did not seem to mind me crawling into the bottom section with them to drill, screw, and grunt. LOL.
The ladder
​
The side door will give the girls access to the run I have yet to construct:
Side door
​
Seriously, at this point the coop weighs a ton. Well, not quite a ton. The only way I figured I could move it was to apply some of my college physics to the problem and turn the coop into a tractor. I installed tires on the two back legs (10" metal, solid rubber, 1/2" bore, 80lb load capacity for ea, ~$9 ea) and added post braces on each leg. By using two 8-ft handles (two lengths of 2"x2"s glued and screwed together) that I slide into the braces, I create a wheelbarrow effect to wheel the coop around the yard. Of course it meant redoing the doors to accommodate the tires but it was worth it! Now I can easily move it myself and it doesn't weigh more than 20 lbs! If I need to, I can remove the roof to make it even lighter.
Tires and post braces
​
My trusty handles
​
Lily and Daisy seem pretty happy with their new home. I let them free range around the yard when I'm at home. The next thing I will do is make a lightweight run (I hope) using the leftover wood and some recycled chicken wire so they will have more room to run around while unattended. I've seen a stray cat in the neighborhood sizing up the girls so I'm not taking any chances!
Lily and Daisy
​
I'm pretty sure the girls like their new home because this is what I found this morning ...
Lily's egg!
​
Things I like about the coop:
It's cute and just right for our climate.
It is virtually predator proof. I used hardware cloth (0.5") around the bottom section an also in all of the open eaves.
The whole side of the top section opens for ease of cleaning and the little door/window set in it provides extra light and ventilation when needed (It opens to reveal a window covered in hardware cloth).
I like that the top section is the perfect height for me to clean or collect eggs without needing to bend over at all.
I can move it myself!
Things I would have done differently:
I'd start with a REAL plan. While I enjoyed the problem-solving aspects, I think some initial planning would have saved me a lot of time.
I'd use corrugated PVC for the roof. Asphalt shingles are WAY too heavy.
I'd use a wider tire with a higher load capacity (i.e, 175 lb, 5/8" bore) to accommodate the weight of the coop. The coop is actually much heavier than what the tires are coded for so they are already bowing.
I would have made the nest boxes a little bigger. As you can see, neither hen uses it.
I'd brush up on my physics, algebra, and geometry. When I was in school, teachers said I'd use it someday. I just didn't realize it was THIS day!
Thank you everyone that has ever contributed to the coop design and construction page because I've perused every single one and I used your ideas to create a home for my two girls! And thank you
MSBEAR
for your cute and totally awesome designs. As you can see, I used some of your ideas.

Thanks for stopping by!