Well This is my Egyptian Fayoumis Pen Page. I just built a new pen and have acquired a couple of Egyptian Fayoumis. I have 2 roosters and a hen so far. I have found some hatching eggs on here and Eggbid. Thank You SHERRI! I just hatched 3 Egyptian chicks!!! and I have 16 more eggs in the incubator. But this is my Egyptians and their new home. Their pen is still a work in progress but for now it will hold them. It is an add on to the back of the hen house and my baby chick pen next door. It was nice cause I only had to build two sides. I have now added another Pen in front of this one. I'm hoping to buy enough Fayoumis to fill both pens. When I have enough hens I'll be moving the non Fayoumis to another pen. I built a 6 hole nest box for their pen and it is pretty heavy so I built a small stand with a "henabator" nest box underneath. Cant wait to try that out this spring. I still need to build some roosts. So heres a few pics. More Pics to come.
Chickens on Their Temporary Roosts (Ramses and Cleopatra)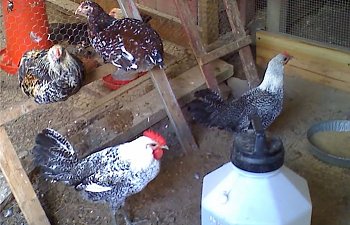 The Four Chickens Scratchin Around (Ramses and Cleopatra)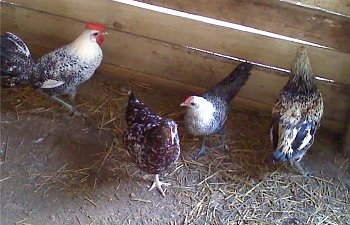 The Four Checkin Out The New "HENABATOR BOX" (Ramses and Cleopatra)
If you look against the back wall I buried a Railroad tie all the way across the back. I also did this on the outside walls. If your Chickens like to dig out, this has worked well for me to stop them.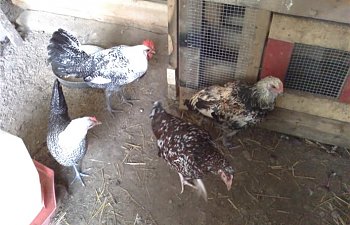 Osiris (My other Roo)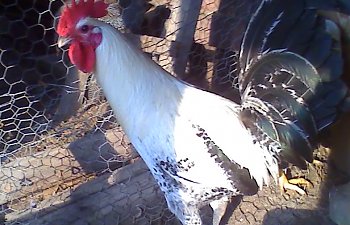 I have an incubator to fill up so if anyone has any Rare Breed Hatching Eggs for sale I might be interested. Would like to find some cheap and if anyone has some eggs you would like to test I'd be happy to try them out for you. Any Fellow Egyptian Fayoumis owners feel free to contact me if youd like to swap eggs in the future or if you have some for sale or will have.
Thanks for looking.