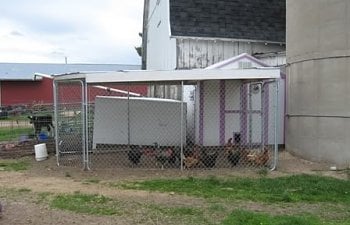 Whole Chicken coop and run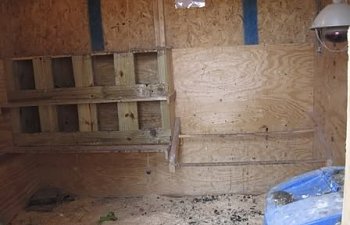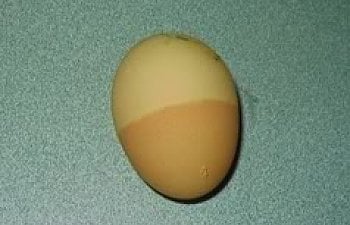 Inside of chicken coop. Unique egg collected 10/30/2007.
We fell into having chickens. While we had talked about it before, I had told my DH that he had to build the coop BEFORE the chicks were ordered. Well, the coop never got built so the chicks were never ordered.
Then when DH was off on vacation, he works at a local feed mill; one of the guys at the mill took an order for chicks (6 Brown pullets, 1 Leghorn roo, 6 Black pullets, 2 Black roos, 2 white turkeys, 2 brown turkeys). When they came in no one picked them up and there was an extra Black chick (turned out to be a roo). The bosses told my DH to take them home no charge.
We lost the two brown turkeys the first morning due to an animal getting into them. The wall of the grain room in the back barn doesn't go to the ceiling only the beams and when I had voiced concern over it DH said they would be fine. Luckily, I was in the barn the next morning feeding heifers when a ruckus started. I yelled down from the hay mow at the heifers because it sounded like they were trying to get the pails of grain I had set out. Instead it was something after the chicks.
Other than those two everyone made it. We butchered the two remaining turkeys at 12 weeks of age and they dressed out at a little over 12 pounds. We have also butchered the three extra roos.
We did manage to get the coop built for the chicks about the same time they outgrew the brooder. It took a little longer for the run but they were young enough yet that I didn't worry about getting them out right away.
Now the hens are laying (started at 15 weeks) and our two daughters enjoy going out to collect the eggs
.
It's been real fun waiting to see how many eggs we will get each day!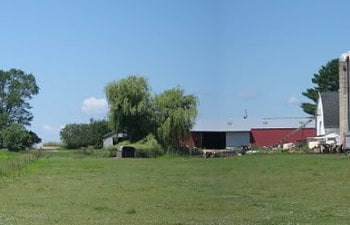 Back to the forum.