Urban Coop'Mahal!
Built using the free plans from Purina's website:
http://poultry.purinamills.com/NUTRITIONMANAGEMENT/HenHouseHutchDesign/default.aspx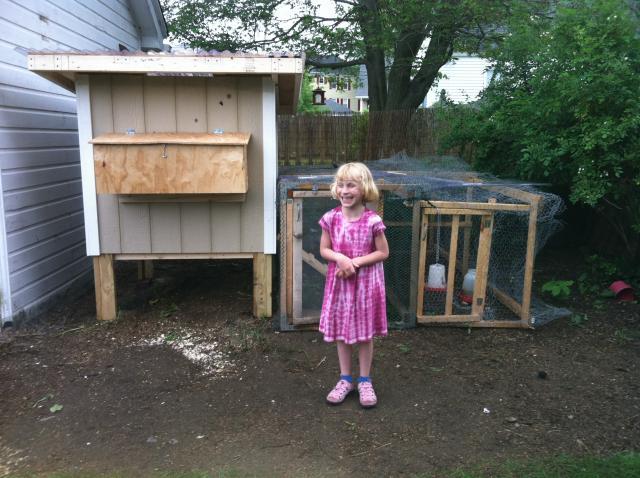 The help and advice from this site has been amazing. I turn to backyardchickens.com whenever I have a question and always find the answers I need!! Thanks to the collective group!
We have 3, 1 year old Golden comets and got three chicks this spring from the Agway; 2 SL Wynadottes, and 1 Speckled Sussex. I knew I needed a new coop anyway, since the original one was falling apart, so why not get three new chicks, right? My Uncle offered to help us build a coop, and he offered to get it started at home. When he arrived for the build weekend, it was 90% done! All we needed to do was finish off the roof, cut out the doors, install the nesting boxes, and put it into place. That is a good Uncle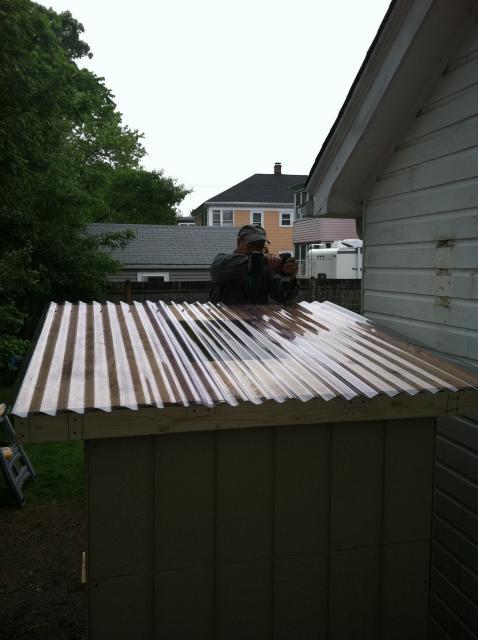 For 2 months prior to the new coop, we had the chicks out with the hens in a side by side run. I was lugging the chicks into the 3 season porch each night in a dog crate (UGH!). I let them into the yard when I was home, but the chicks were hard to catch and afraid of the hens for sure. Once the coop was set up we went for it and left them out there. For a few days I would let the chicks stay inside and let the hens into the yard; then I would switch who got to stay in and who went out. There is still some "hen-pecking" but I think this is normal (from everything I've read here). We are at the end of the first week an the "chicks" (now 4 month old Pullets really) are sleeping in the nesting boxes to be away from the hens. I went out last night and pushed them out. Will keep an eye on that.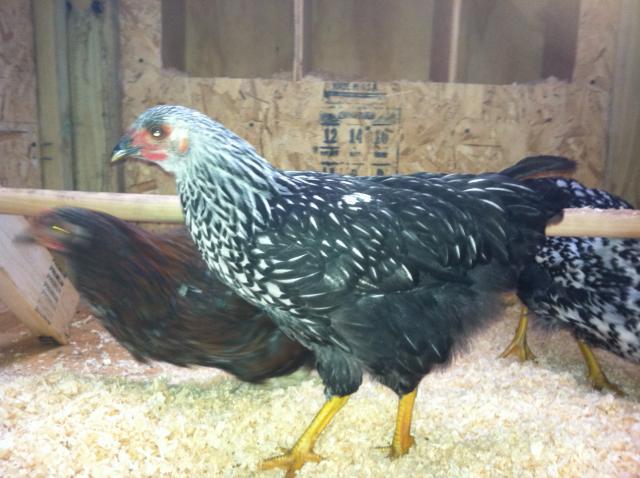 Today we tightened up security around the run, so they have a third area to roam that keeps them safe, while also keeping them out of my flower beds. 6 hens can do a lot more damage (and a lot more poop) than 3. We will let them into the yard when we're out there in the evenings, but for now they need some limitations. Other than the "fence" door on the left, I'm happy with the set up. I'm sure I'll find something else to tweak!
As for eggs, I'm getting 2 a day from my hens and one seems a bit off. About a month ago she laid the strangest thing I've seen, and no eggs since. I'm worried something is up with her. The problems began when the chicks started coming outside during the day, so I'm hoping she'll break out of it. However, all winter we were getting 3 eggs a day no problem. So I'm giving her some time to sort it out.
This weekend: After a day of priming and laying down some grass seed in front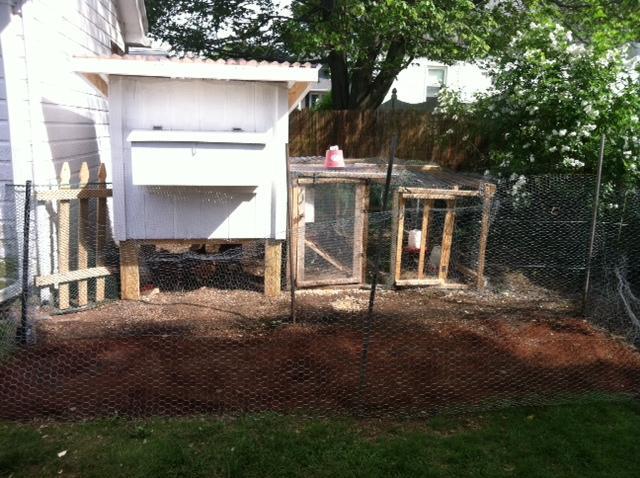 This weekend... after a few coats of "Fresh Pineapple" and the grass in front coming in! The chicks are jumping onto the runs and hopping out of the fencing, but they will soon be too big to keep that up.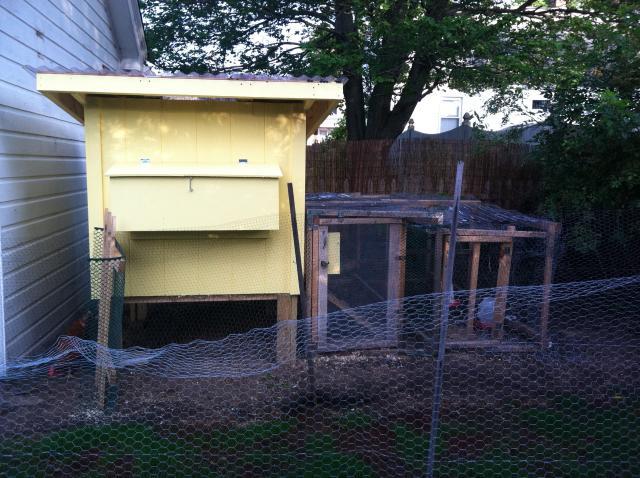 Also, got 3 eggs yesterday! One was tiny tiny and cracked, but I'm hopeful the hens are feeling back on top after all of this change.
Thanks for visiting.