I live in an 1851 farmhouse on 10 acres in upstate NY, zone 5, with my partner, our two 3 year old kids, and two great 65 lb dogs. We got day-old chicks in May, and they've just started laying in Sept, right on schedule.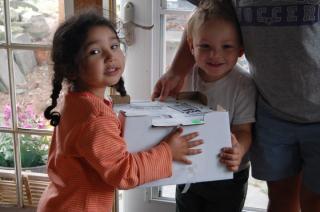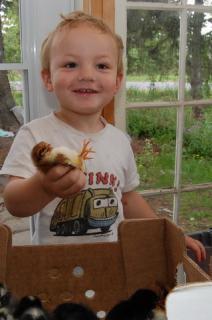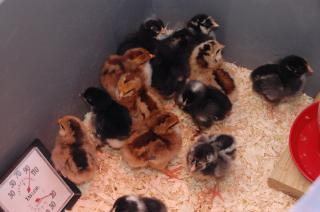 We have 17 hens and 1 rooster, a mix of barred Plymouth rocks, silver laced wyandottes, black australorps, speckled sussex and a couple Easter-eggers. They have been a great addition to the Homestead, and we are acclimating our two big dogs to sharing their land with what could be considered prey, with only one incident so far.
I hve found the Backyard Chicken site to be extremely helpful along the way. When it came to actual design, I took great inspiration from two coops in particular,
the Daily's Coop:
http://tinyurl.com/KassysHenHouse
and Christine's from Front Porch Indiana:
http://tinyurl.com/FrontPorchIN
We spent the summer building a 10x12' wooden shed from these plans:
http://www.betterbarns.com/thisPlan.asp?ProductID=2022
We may add the smaller section later (goats perhaps?) but for now have divided the space into an 8'x10' coop and a 4'x10' storage space for all the feed, grit, shavings, etc.
We started with a 4" layer of gravel, and built the shed on 6x6" PT skids. Once the floor joists were down, we covered the whole floor with hardware cloth to impede rodents & predators before laying the down the PT subfloor. (Our rat & rodent population has been thriving since the local coyote habitat was all but removed by McMansions. "Progress" is so sad.) The rest went up according to the plans, except we opted for the cheaper OSB walls with 4x8 sheets of siding vs. cedar.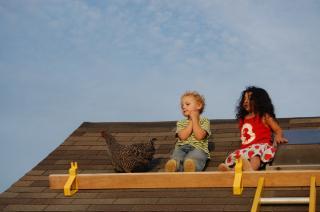 We still have to finish hanging the exterior siding, and plan to insulate and then hang interior OSB to cover the insulation. I still have to build and hang nesting boxes - I'm planning on a set of 2 and a set of 4 in two locations within the coop to give the girls some options.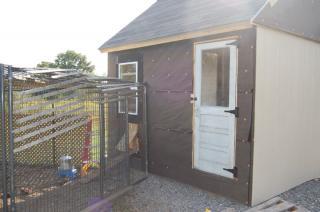 The dogs are out in the mornings while the chickens have access to their temporary run, a 10'x10' dog kennel that we've attached to the side of the coop. In the afternoons the dogs come inside and the chickens are allowed to free range in our meadow. Once I get a safe area fenced off for them, they'll have a large patch of meadow to which they'll have all-day access that will be safe from the dogs. We have high hopes the dogs will get used to leaving the chickens alone, but years of having open hunting on our land has left a pretty strong prey instinct. They are well behaved when we are present, but the first time left alone together the Airedale showed up at the back door with a BPR in his mouth. A couple of days in isolation in our bathroom and some tending to the one puncture wound and she seems fine, but no one wants to repeat that experience.