Meatbirds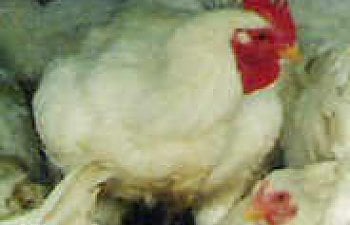 Although we raise chickens for eggs for our familys use,meatbirds are our specialty.
We perfer the Cornish-X because of the rapid growth,large breasts and their quality meat.
A Cornish-X can be raised from hatch in as little as 6 weeks depending on the size that fits your needs.​

​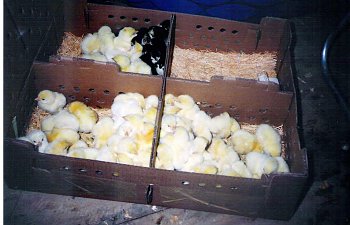 We buy day old chicks from hatcherys and raise them in our brooder.
They stay in that brooder until 4 weeks old or until they feather out.
We usually buy egg layers at the same time for the kids to enjoy long after the others
are in the freezer.
We think one of the best ways to raise meatbirds is in a chicken tractor.
The tractor is moved alittle each day so that it is always on fresh ground.
This is one of the cleanest and most heathly way to raise a meatbird.
Once they are in there,they can stay til processing time.​
​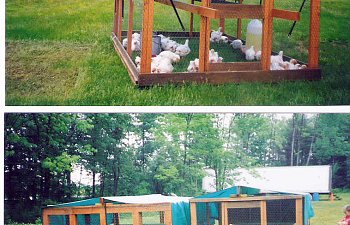 Notice the large legs needed to support the large heavy bird.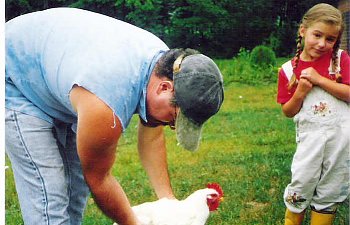 Many people ask"Why choose cornish over a standard heavy breed?"
Why not just raise standard heavy breeds and butcher the roosters?
We will show you why.Below is a Cornish-X and a Standard Heavy.
Both are male,hatched same day,fed same diet,housed together.
3days old
2 1/2 weeks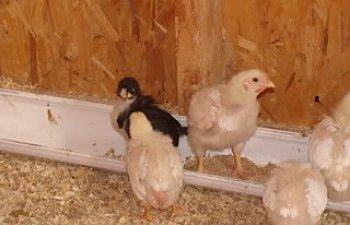 3 1/2 weeks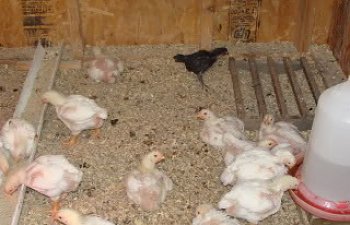 ​
4 1/2 weeks