THE CHICKEN SHELL-A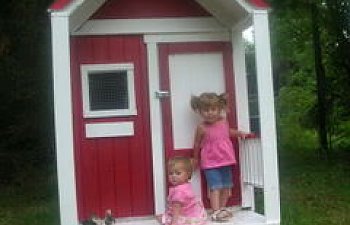 And
THIS IS HOW IT ALL STARTED
Three little barnyard chicks that my sister Carleen (The Trouble Maker)brought to my new house summer of 07. The Grandkids loved them so my husband fixed up this little coop for the chicks and I painted it turned out realy cute.
I named it the Chicken Shell-A.
(Thank god my husband is so handy and and can build!)
Now I get the bright idea this house is very BIG for 3 tiny chickens so we need more! The Grandbabies loved them and so did I but my husband was not to happy with me! He just wants to finish the new house first so we could move in.


Well shortly after getting the 3 baby chickens I started

surfing the net and found out about day old chicks that you can buy. So being Me I of course ordered 12 more 6 bantams an 6 standard chickens. Hey why not have some cute chicks and get some fresh eggs too.
HERE ARE THE NEW BABIES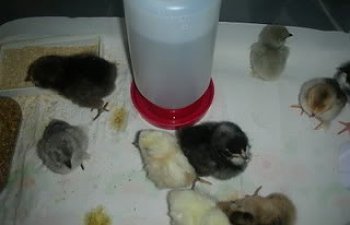 They were so much fun to watch in there make shift brooder

On my kitchen table at the old house (were we are still living). A clear tote and heat lamp hanging from the ceiling light. Well we sadly lost a few bantys that were just to small for the bigger girls but the rest of them now live as free range chickens at our New House. They are very tame pets and will eat right out of your hands. I just love them all!
FREE RANGE HENS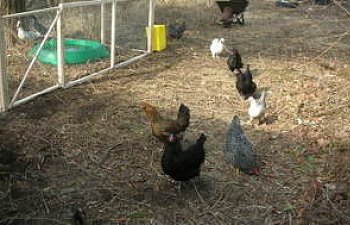 Ok so you think I would be happy with my 10 chickens. No No No
I need more so I go and get 2 new silkies & 2 ducks and bring them to the new house (that we don't live in yet) so the GrandKids can feed them bread by hand. The only problem is They need a duck house and a pen with a gate.
LOL
Well it is now Feb of 08 and you know near Valentines day wich is also my Birthday. So I tell my husband that for my 2 Gifts Iwant. A Duck house and A Pen with a gate. So he Builds it for me (because he is a good guy like that) in the old barn that needs to be fixed up AFTER he finishes our New House so we can finely move in.
(Boy I wonder why the New House its not done yet!)
NEW CHICKEN & DUCK COOP
NOT AS CUTE as the Chicken Shell-A
BUT ALOT BIGGER!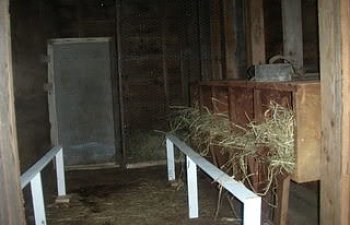 So we found lots of old stuff in the barn to use to make the two new homes 1 for the chickens and 1 for the ducks. The ducks are in the back half with a screen gate we found on the floor and he used chicken wire to separate them from the chickens. I put some hay on the floor and John made a little door and ramp for them to get outside in there new pen.
For the chickens side we found an old locker that he screwed to the wall for nest boxes and made two roosting bars for them. Not as cute as there first house but it is MUCH BIGGER an works out a lot better for the chickens and ducks. And thats right YOU guessed it! NOW I can get more chicken and ducks.
The Grandchildren
DESTINY & NEVAEH
FEEDING THE NEW DUCKS IN THE PEN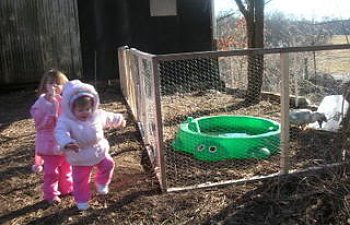 " UPDATE" NEW ORDER COMING IN ON FEB 22' 08
SIX new Ducks! A pair of White Pekin Ducks female is crested pair of Rouen Ducks female is crested (look like large Mallards) 1 female Crested Cayuga Duck and 1 female Crested Blue Swedish Duck. We can't wait to see them! Well that is me and the Grandkids are very Happy! Although I do think my husband is starting soften up and come around and that leads me to the story of my 2 latest Rescued Chickens Lucky the Rooster and Penny the lucky Hen.
RESCUED FROM HAY FEILD WERE THEY WERE DUMPED OFF!
(by some jurk)
LUCKY AND PENNY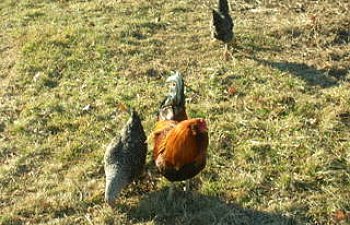 Lucky the Rooster is so handsome and friendly and Lucky (Penny) is the hen in the back very shy but she is cute. The little hen on the side of Lucky was not lucky at ALL an sadly was not able to be saved.
After days of me and my mother trying to catch them to no avail. My husband (the City boy who can build!) cut down all of the prickers and climbed up the tree were the chickens were hiding from the coyotes that ate the little hen. They were up pretty high over our heads and My poor husband who never even wanted any chickens climbed up and grabbed the rooster off the branch and handed him down to me where I put him in a tote. Then the poor hen got so scared and started jumping around in the tree he couldnt grab her. She finely fell out of the tree and I caught her in the big fishing net we had got a few days ago (because i thought i could catch them LOL.)so I put her in the tote with the rooster. We get them into my mothers mini van and take them home.
Now I don't know what to do with these guys HUMMM??
remember
The Chicken Shell-A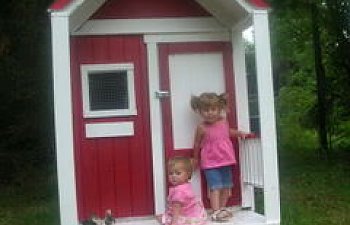 So Me and my husband put them into the coop. I make sure they are safe and sound I feed them give them some water an told John Thank You for The Great Rescue and for saving them poor babies.
I will keep them in the Chicken Shell-A for a few weeks to

make sure they are ok healthy & happy before letting them free range with my other chickens. I will let them free range for a week or so with all the hens and my New Silkie Rooster so they can become friends before I move them into the big UlGY coop in the barn.
my goal is to have them in the big ULGY coop in the next 4 to 5 weeks when the Chicken Shell-A will be disinfected
abecome the....... nd
Baby Ducky School House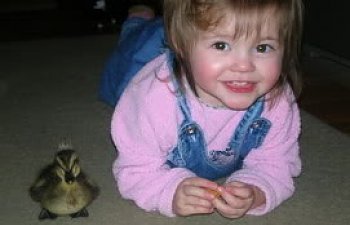 I can't even think of asking my husband to build any thing else for
brids or animals until
OUR HOUSE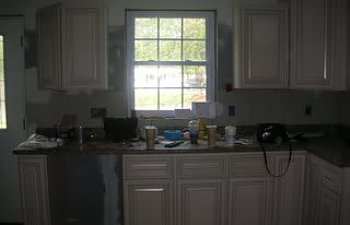 is finished an we can finely move in!! By the way The new House is coming out very nice thanks to my HANDY Husband John (The City Boy Builder) my two Sons Jason 20 (MR. Rich) and Ryan 17 (The Comedian) who are sick of helping! Myself Ronda( The New Farmer) and my Daughter Katelyn 19 (The Beauty Queen) who is also on the clean up crew with me.
Oh I can't forget my Mom & Dad Marie (The Wise OLD Farmer) the one who started this whole DAM thing & Wayne (MR. ALWAYS Right) also know as ( MR. Karaoke) our two adorable Granddaughters Destiny (The Chicken) and Nevaeh (Chicken Chaser) that spend the weekends at our house with Grandma Shirely (The Foreman & Ballroom Dancer) our 2 Dogs Hagen (Fat Man) & Tori (The Princess) and last but not least our Cat Pixie ( The Stuck Up Kitty)
Here are some Family Photos
DESTINY & NEVAEH
(the chicken) (chicken chaser)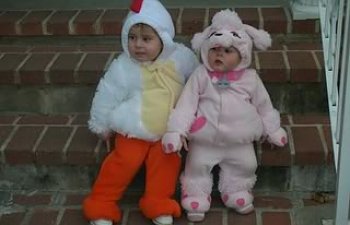 Wayne Marie
(Mr. ALWAYS RIGHT) (The Wise OLD Farmer)
also know as
(MR. Karaoke)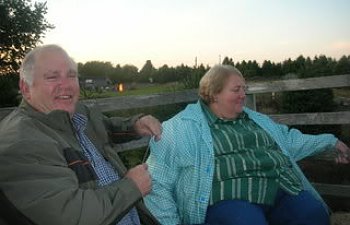 Shirley John
(foreman & Ballroom Dancer) (The City Boy who can Build)
& the 2 adorable grand daughters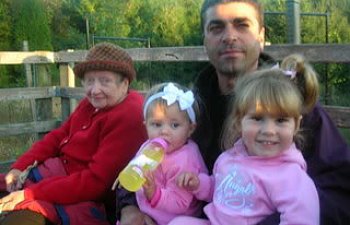 Katelynn
(The Beauty Queen)
Hey hey here I am!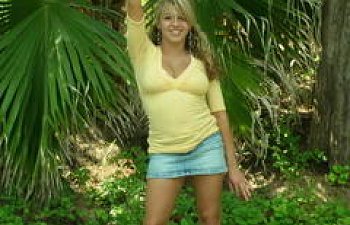 Ryan
(The Comedian)
W

hat are you lookin at?

I

s there some thing on my face?
Jason
($MR. Rich$)
SHHHHHH!!! I'm listening to the stock market
Pixie
(The Stuck up Cat)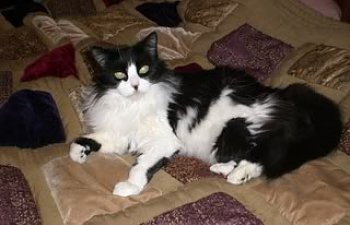 Hagen & Tori
(Fat Man) (The Pirincess)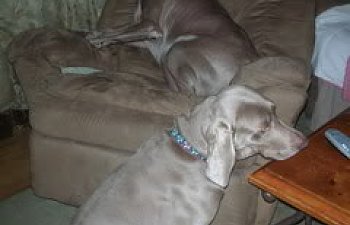 Ronda Katelyn
(The New Farmer) (the Beauty Queen)
Yep thats right i got two pics in!!
This pic was taking in a cave in Bermuda
Sept 13th 2007
while John was taking care of my Chickens that he never wanted.
I know This guy has to LOVE ME!!
It is so funny to

think a year ago we were talking about the kids growing up and moving out on there own. Ha ha ha we were worried about being left with the
EMPTY NEST
Syndrome
HA BAH BAH BAH
Oh Sh*t did I just Hear a MINI GOAT???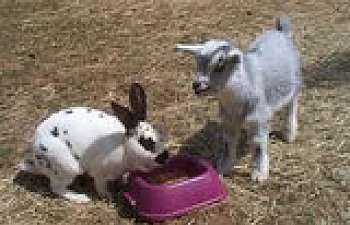 I have got the perfect
LITTLE RED BARN
for
1 or 2 Kids
And Easter is coming
The Grandchildern would love a couple of little kids
to play with!
How could Grandpa ever say No to His Lil Angles
Just look at those Lil Cute Smiles
OH Look they have the
Pretty, Pretty, Please Grandpa!!
Faces on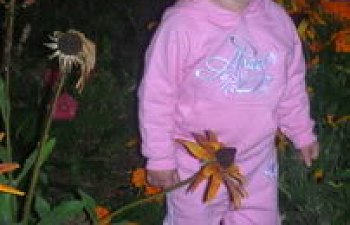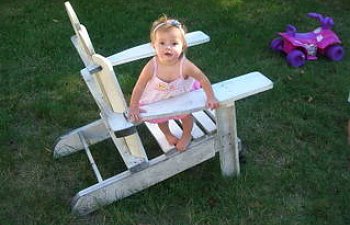 How Could He EVER Say NO!
So Hopefully i can post up some new pics of the
MINI GOATS
That we are hopeing for This Easter!
I am sure it will not end here!!
I am training the Grandkids well. Poor LIl Nevaeh she can't ask for A Polish Crested Rooster she is only 1
But She is Very Very Smart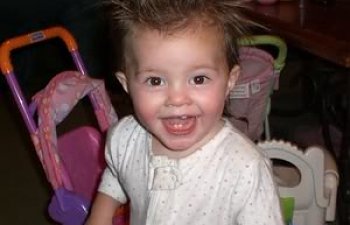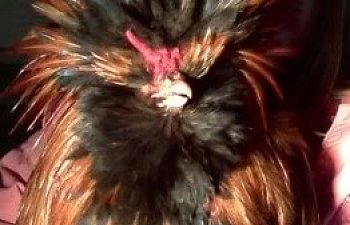 I bet You can't wait to see what we come up with
Nest!!
*next*
Just Started a new page so go to page 2
https://www.backyardchickens.com/articles/page-2-3.54013/