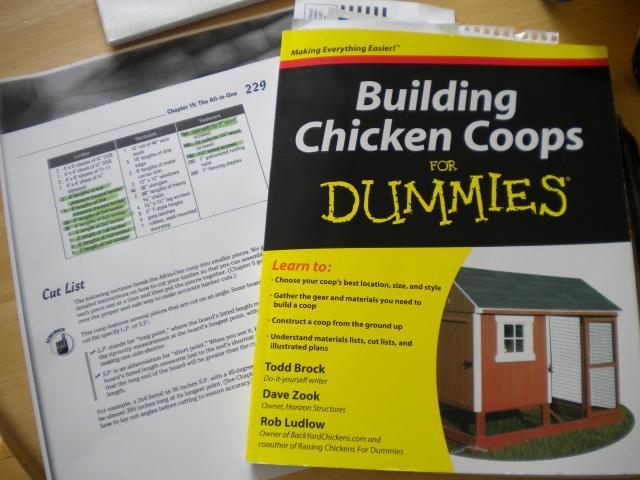 s
I used "The All In One" plan from Chicken Coops for DUMMIES. I am glad for the experience/challenge! I know how to shingle a roof now! I found that using power tools and pounding nails is great stress relief too!
Here's pictures of the spot I chose for the coop. It's tucked into a spot with my flower garden on two sides.
Note that the snow is melting!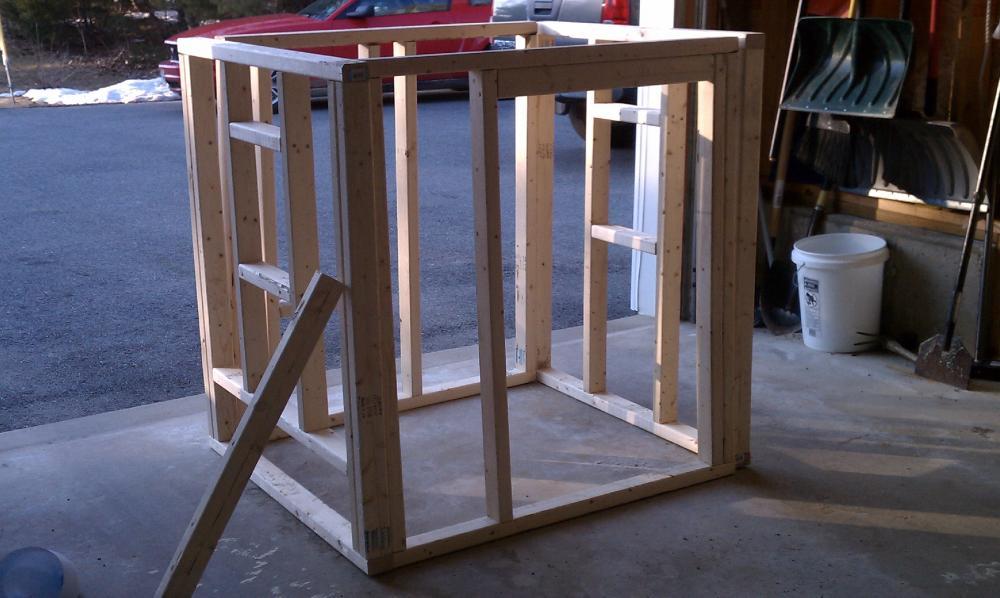 This is all four framed up walls propped up together.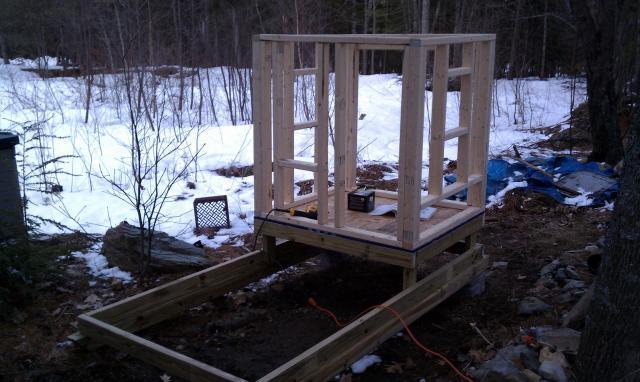 It was about 20 degrees today. When you're having fun you dont feel the cold! (Mainers don't feel the cold anyway
)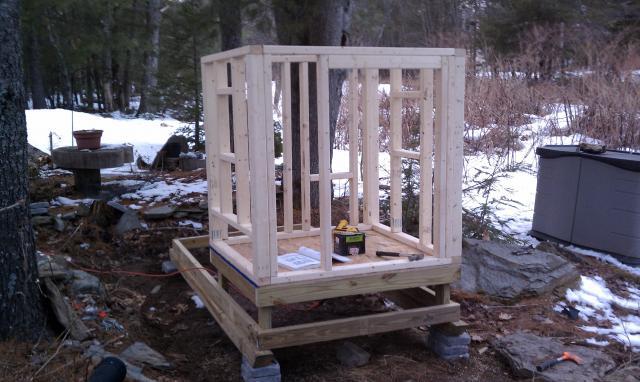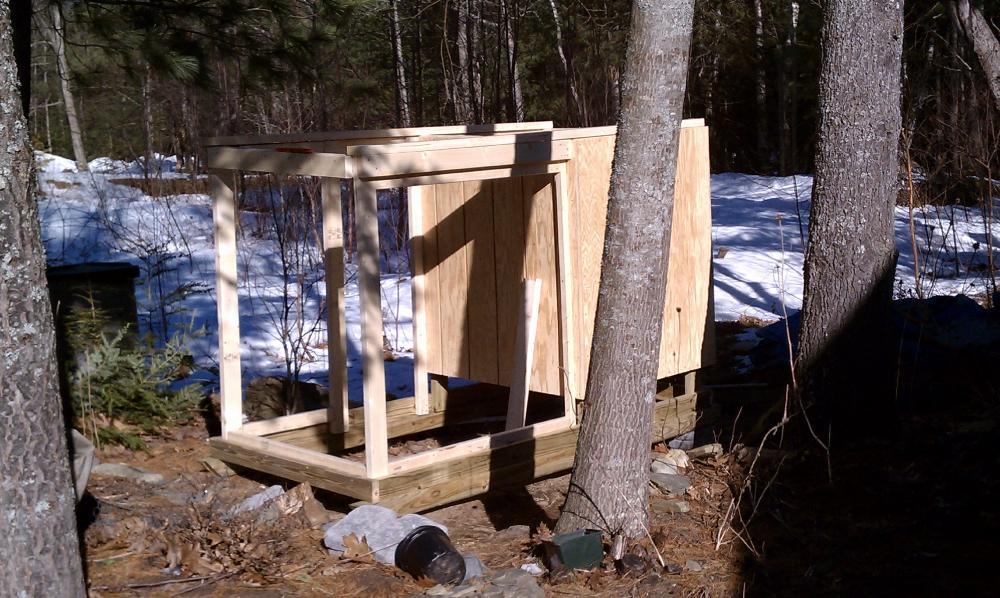 Don't let the sun fool ya in this one! I had to go around and sit inside the coop every once in awhile to get out of the freezing wind!
Doing this run was where I first ran into major issues with the DUMMIES plan..... grr.....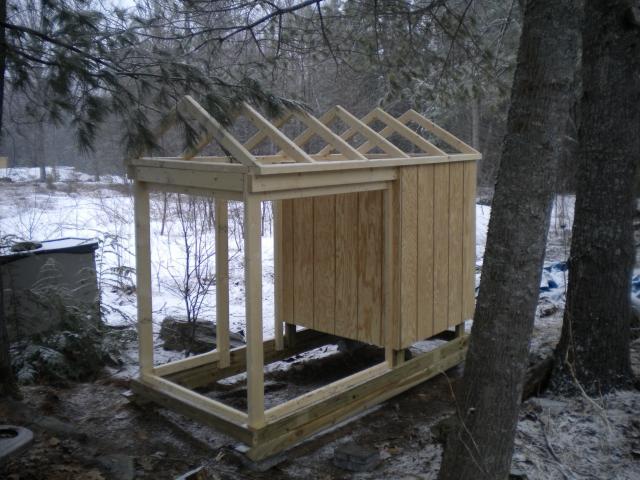 T
his is April 1. We had a HUGE snowstorm coming as an April Fools prank so I got up at 6am and put the rafters on. And then It started snowing too hard!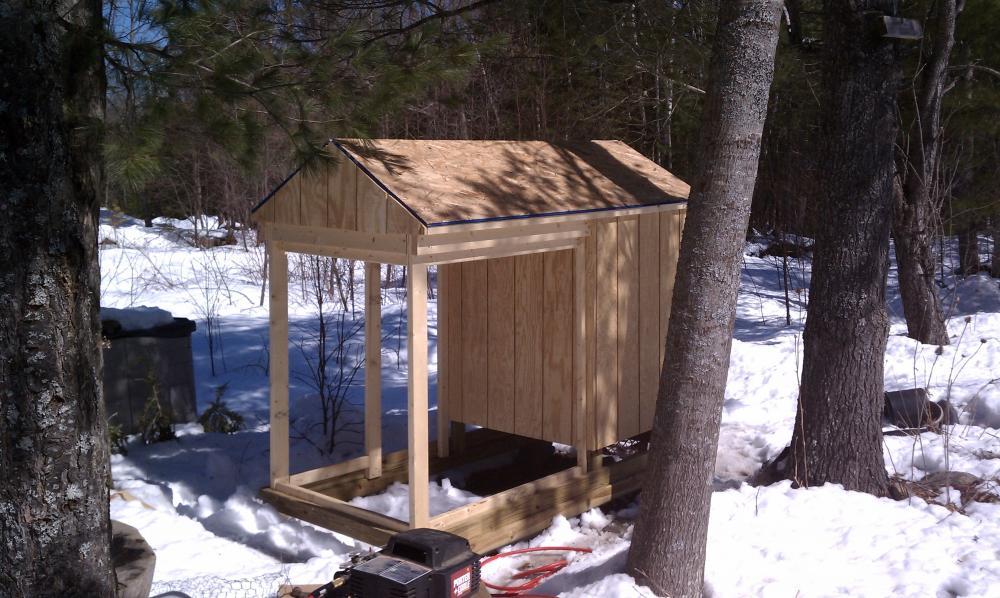 NOW it's starting to look like something good!!!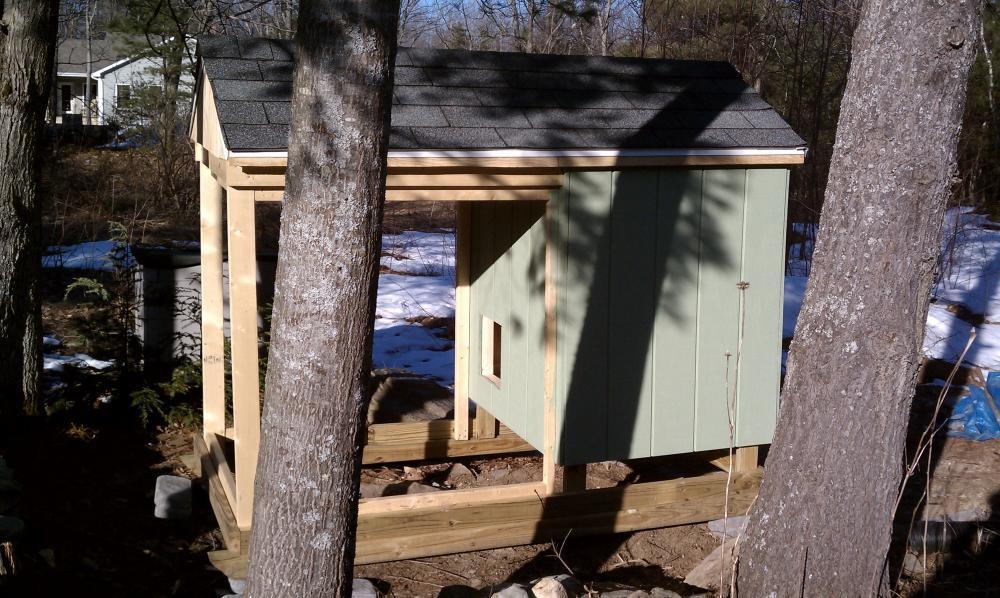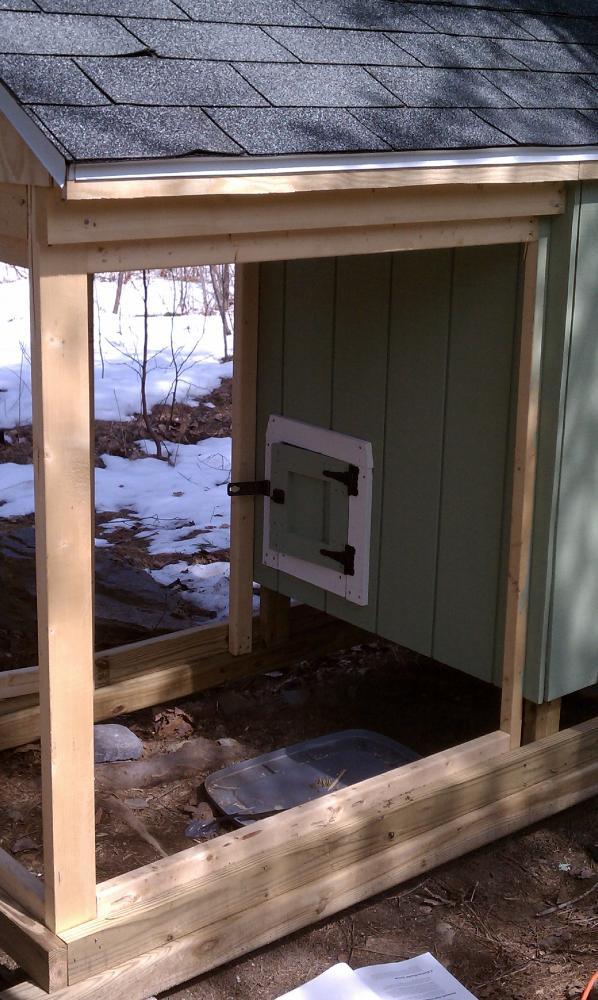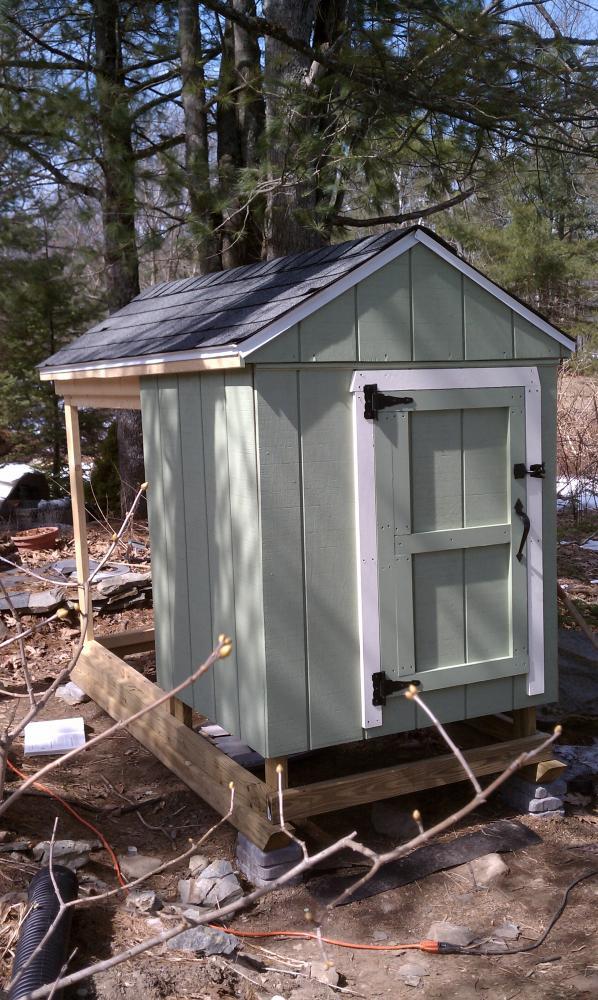 HOW ADORABLE IS THIS?
I decided to make an addition to the existing run area. More CHA CHING! They are my babies and I want them to be happy and have room to play! Plus, it gave me room to get in there and be with them.
I didnt add the pictures, but the coop is fully insulated with the pink stuff! THAT was an itchy job! The coop is always 10-12 degrees warmer than the outside air. (I have a wireless thermometer inside the coop). I also have three of those battery operated (AAA battery) push lights stuck to the ceiling of the coop for those early mornings and this time of year.... early nights!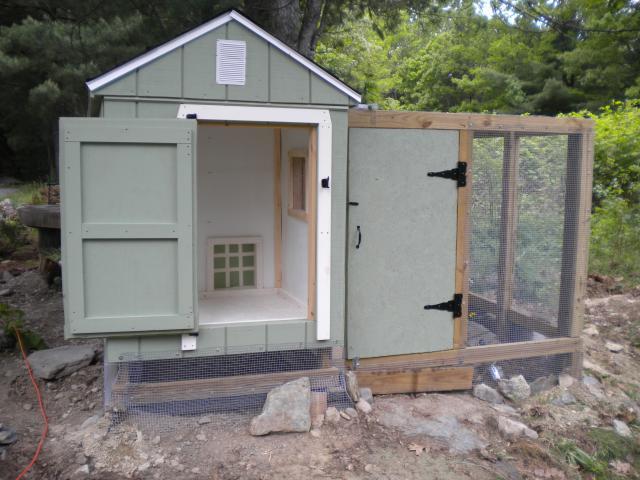 Since this picture I've added sand to the coop side of the run and 1/2 of the big side of the run. Makes poo cleanup a breeze!

My girl October. <3 This was the girls first day in the coop! Mommy was very nervous!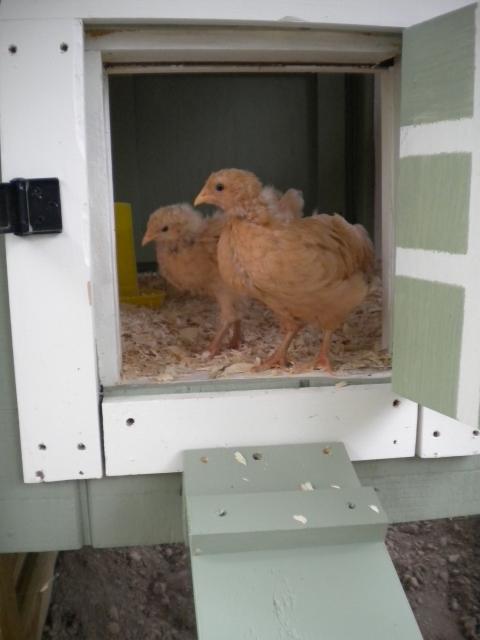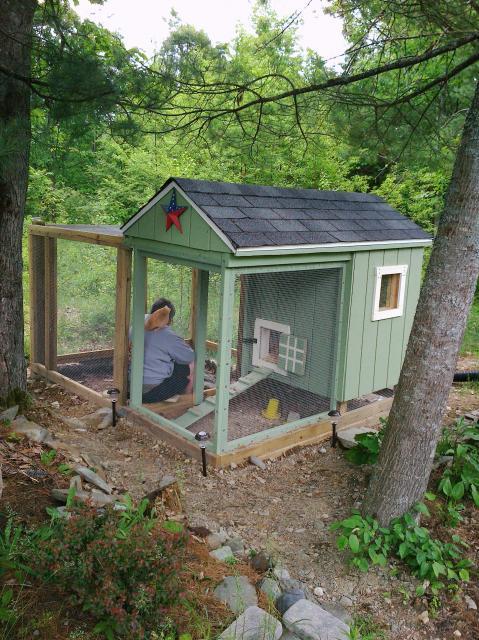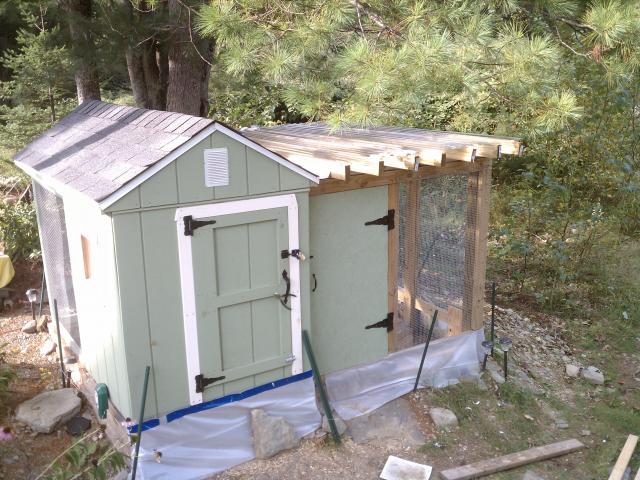 This is the most recent addition, the clear roof on the run. It's October and cold Maine weather is on it's way now so I'm starting to put up plastic on the run walls also. I'm going to plastic the whole run area. I bought 6mil transparent for the big run and I'm going to use perfectly clear plastic like you would use for a tablecloth cover for the small coop side of the run so they can see us and we can see them!

Just ran a medium duty extension cord through a few pieces of conduit so that I can put a water heater and maybe a light (for me) easily for the winter. Buried so that I don't run over it with the snowblower this winter! I joked that I was also running cable tv for the girls! I think people thought I was serious!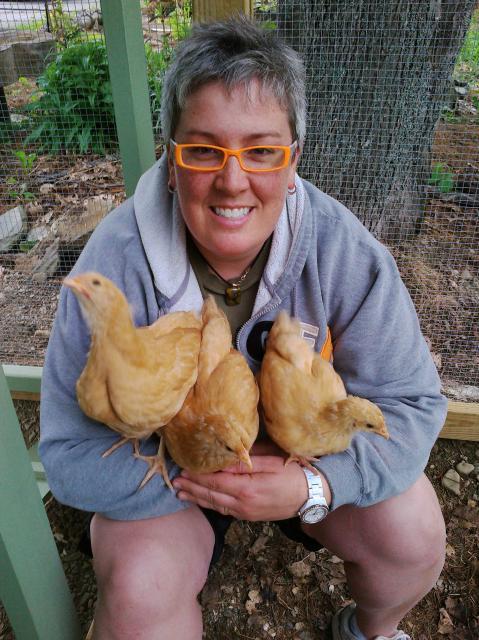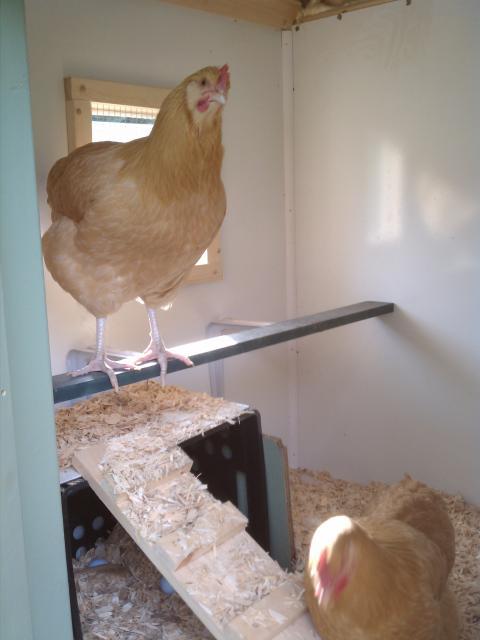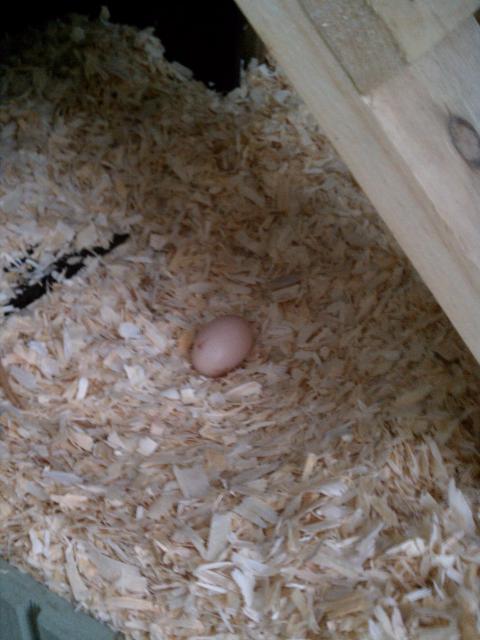 And today 10/03/2011 I got my first big reward! First EGG!!


his has been a good.... albeit time consuming project. I've learned a lot about construction, chickens, and how fast you can spend

money.... I never imagined how much joy 3 chickens could bring. People that don't have chickens have no idea! I love my girls!

I've had the girls since May 2011 now so I can come up with a few things I would change if I were to build this coop again:
1) I like the size of the coop however, this winter I'm sure I will wish it were big enough for me to get into with them. Bigger coop! I do think this is perfect for three standard size birds though. They perfectly fit on their roost with a little bit of space in between IF they want it. They have enough room in the coop that they don't fight if they are "cooped" up for any length of time. I will say that if I hadn't added the additional run... they wouldn't have enough room.
2) I banged the top of my head really hard on the run door recently. Taller run and door!
3) Coop taller off the ground for more easy cleaning of the poo. The space under the coop is where they hang most of the time so thats where most of the poo is.
4) windows that can open for more ventilation. Oh... and so I can clean them. Mine are fixed and covered with hardware cloth on the inside.... duh. I think next summer I will try and add an insulated window to the door.