We wanted to use materials that we can recycle, all the metal and wood plus windows and paint are all recycled items. We took our time to find the pieces, we posted online, searched the local papers and drove around town. Some suggestion we didn't follow and in the future if our flock grows according to chicken math we will use all options to find materials to recycle


We first gathered up a rough drawing or two of what we basically wanted, neither of us have building skills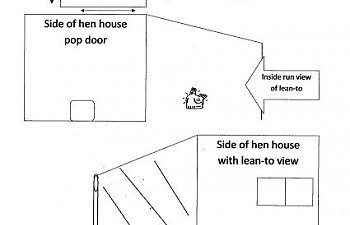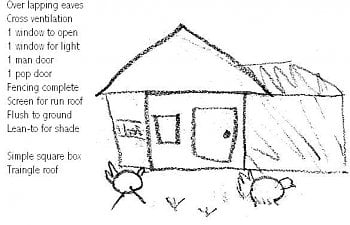 We found a lady who wanted her upside down 10x12 all metal shed gone. Then we found the furniture store down the road from us had a huge pile of lumber and pallets, so the following day we walked in and asked the manager who was eager to see the pile go. Other things we had were left on the property by the previous owner so we put that to good use too.
We picked our spot for the coop


We cleaned the area all up, the poor shed is waiting to have all new siding as well as the garage too!
We started with the floor and with the help of some friends broke down the pallets to create the floor


And the floor complete with first coat of paint; we raised the floor up on stone blocks


The 4 corner posts up and secured, we used 2x4's and made a lip to keep the shavings in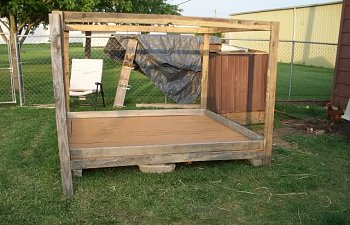 The roof built and ready for the hoisting party, the 1st window installed, snagged that little window out of a trash heap, doesn't open tho but lets in lots of light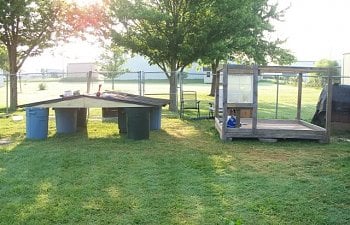 2nd window installed sideways, it is fully functional but a really odd size, got this one from our Habitat Restore $30 and some painting done too. Oh lots of foam to fill in gaps!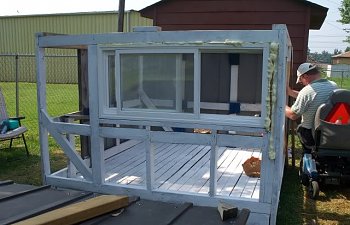 Inside view of the roosts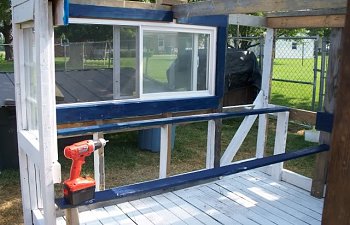 Looking at the front of the coop where the door is going to go and where we need to finish the siding and painting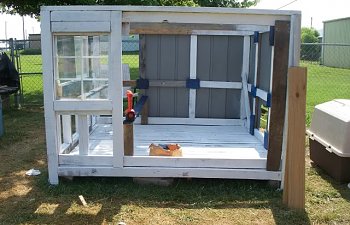 Yay! The roof is in place and the pop door with steps done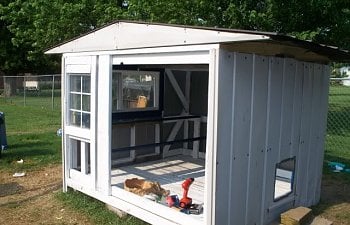 Window with a view, see the cross ventilation, all the way across both sides to help pull air up and out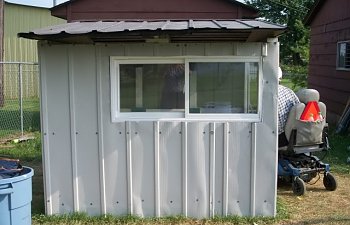 Back and side view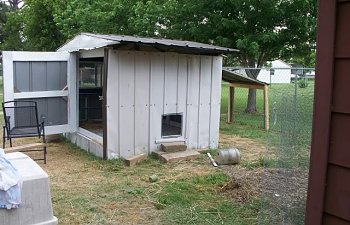 Here is a view of the area that is going to be fenced in, you can see the pop door, lean-to and man door open


My son was a big help getting the fencing up and we planted some bushes inside the run to grow for shade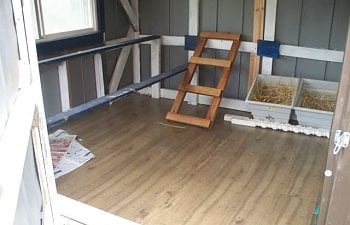 we laid laminate flooring down, what a blessing, we found these square flower boxes in the shed and are perfect nesting boxes
And here it is all complete except the top of the run needs to be secured *dance*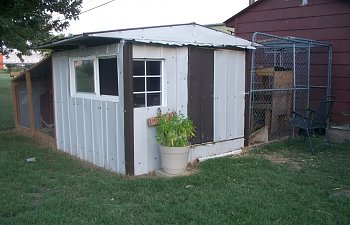 And this is why we did it, we just love our girls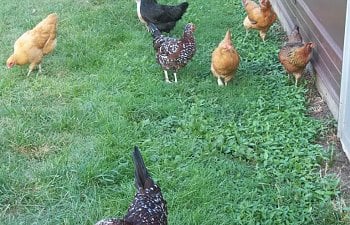 This isn't all of them I see we are missing a few girls but it is hard to get them all together for a photo shoot



What I would change:
1) the inside height, hubby measured from the panels of the metal so when we placed the roof on the beams are in your way, it is fine if you are going to just sit in there but watch out! the main support beam gives nasty goose eggs on the noggin!

2) the pop door, it was cut way too big, I can crawl through it, so it is in the process of being framed in and a new cover redesign

3) create exterior nest box, we have space to make it but not the tools so hopefully a friend can do this for me, this way my husband who is in the wheelchair can enjoy gathering eggs plus make more floor space inside the hen house


Tips: look for unwanted materials that can be reused, place ads in your local paper, freecycle website, craigslist even ask friends and family. Pallets are wonderful ask at local newspaper companies if they have any. Construction sites can be an option for unwanted materials, at the local hardware store or lumber yard ask for mis-cuts or damaged pieces. Even look for paints that have been mixed wrong or returned, Habitat Restore is a good place.