Our First Incubation.
​
So DW and I have decided to chronicle our first incubation for all of you to view if you'd like to. We have a Hovabator 1602N incubator with a turner and a digital humidity and temperature monitor placed inside. The table the incubator is on is also wide enough to hold our brooder box - converted storage box with hanging heat lamp which we used for our 5 Barred Rocks when we got them as chicks last July!
We have chosen Silkies to incubate, and many thanks to Sandy who has kindly supplied us with 9 black and 3 blue splash eggs from her flock. She currently has a batch of eggs incubating, all have growth inside so weare hoping that we are going to be as successful as she is.
2011-01-01
A good day to start. The eggs were placed in the incubator at 11am with a temp of 100 degrees and humidity now in mid 40% range This will give us a projected lockdown date of 1/19 and a pip/hatch date of 1/22 - 1/24, all barring no problems. Pictures will be posted as/when something happens.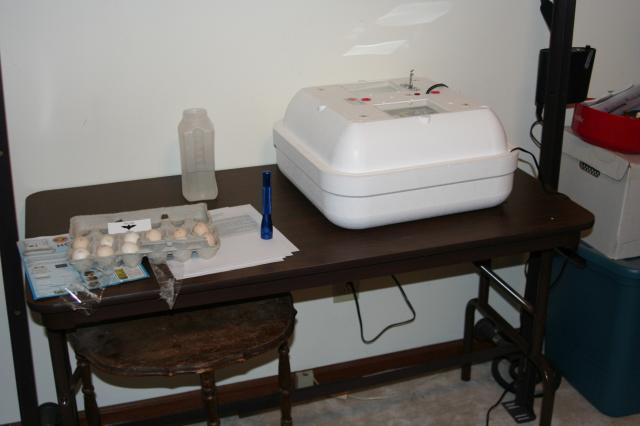 The incubation table. Brooding box will be placed next to it to transfer over the new borns!
2011-01-03
All so far is well. Temp for the Silkies is 100 deg with humidity a constant 45%. I feel like a parent expecting a first born!
2011-01-07
Now on day 6, have added some water to keep humidity at 45% and the temp is a constant 100 degrees. So, 11 days to lockdown and 14 days to hatch date I hope!
2011-01-18
Lockdown!! Of 12 eggs, 3 were clear so binned, leaving 9.
2011-01-21
Hatch day!! So today we had our first hatch at 5pm, followed closely by the next 2 in a dead heat at 9.50pm, here are the pics!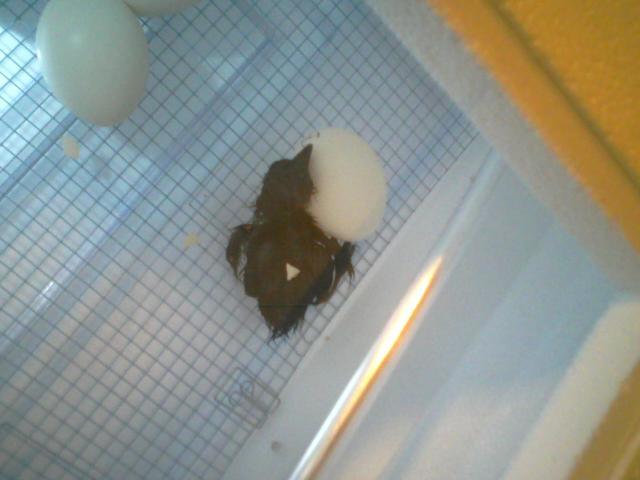 # 1 Chick Hatch! #2 and 3 Chick hatch!!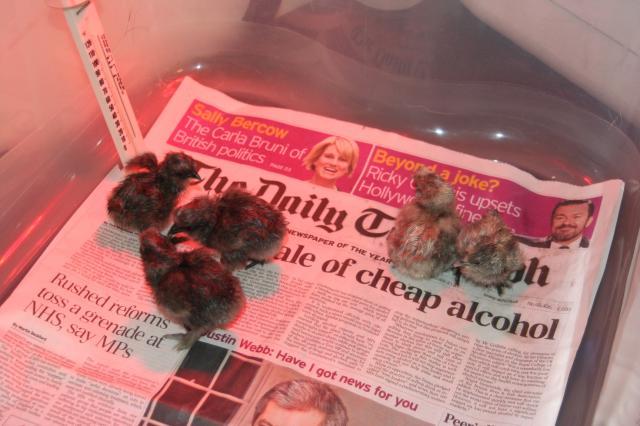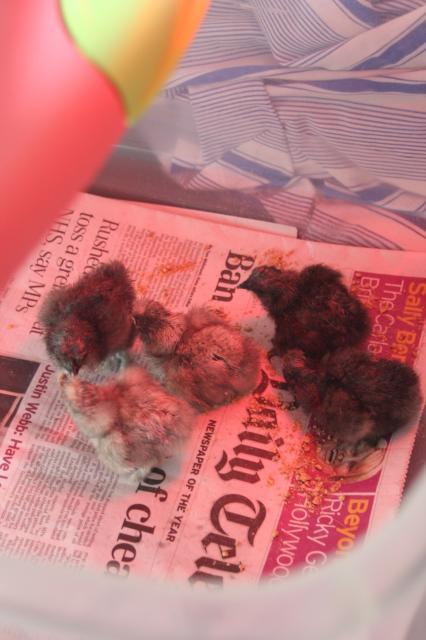 5 Chicks dry and in the brooder box........... They are so tiny!!!
​
HTML">http://www.htmlcommentbox.com">HTML Comment Box
is loading comments...