I made this feeder for less than $10 bucks and it holds amost 20 lbs feed
The one thing I changed after these pictures were taken was I blocked part of the hole at the bottom
I made it about 1/2" wide and that fixed the wasting of the feed

​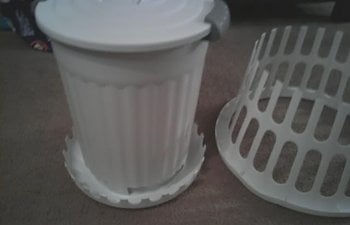 This five dollar 5 gal trash can worked perfect for the "holding tank" part of this feeder. The lid covers the top and prevent the food from getting dirty while also proving easy access to refill. I suggest about an 1/2" wide slit around the bottom to let the food fill the tray. Then snip off the bottom of the two dollar clothes basket and attach it to the bottom using a blot with washers on bothe sides. Please note that the string attached to the lid is only to keep the feeder from getting knocked off the block. It will not support the weight of the feeder filled with food. Good Luck!