Our newly remodeled coop!
​
Our chicken coop project started out by us just wanting to move an old corn crib from my grandmom's yard to our yard. We were initially going to use it as some sort of shed. Kelly and I decided to hook up the car to the old corn crib and pull it through the woods using little logs to roll it on. We began to start this project and grandmom showed up to help.
We started by lifting the shed with a pry bar. Look at that effort!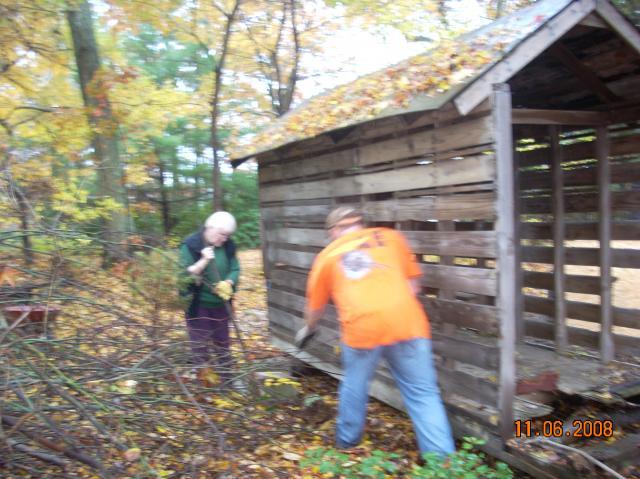 Here's our new help. Don't tell AARP or they might want her membership revoked.
After a couple hours of work in the rain, we finally got it in place. It sat there to become a storage shed for most of the winter. We went to the Tractor Supply and saw a sign about chicks coming and it gave us a great idea to turn our shed into a chicken coop instead. Notice little Leah decided to help!
We have never had any chickens before. We live in southern NJ and are surrounded by farms so we figured we could easily find us some chicks. We didn't know anything about when to get them, where to get them or how to raise them. So of course we googled "chickens" and found this website. Our little idea has turned into a lot of work and excitement. We started to convert our little rotted shed, filled with everything from a lawnmower, plywood (to be used on this project), shovels and crab traps. The project was supposed to be simple, and most of all, cheap. It didn't turn out that way because we were getting more and more ideas of how we wanted it, plus the old corn crib was in a lot worse shape than we realized. It needed a new wall, new roof, new door and of course we had to hang the plywood.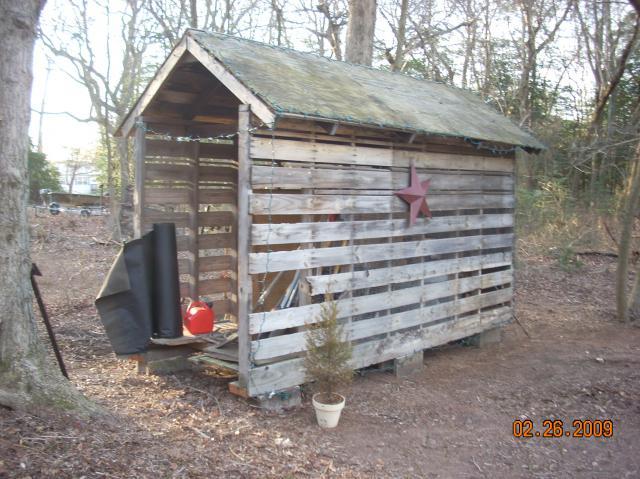 This is how it looked when we began.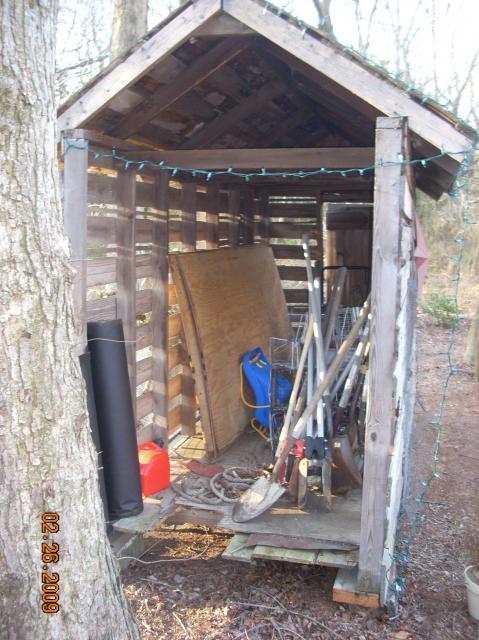 Filled with junk!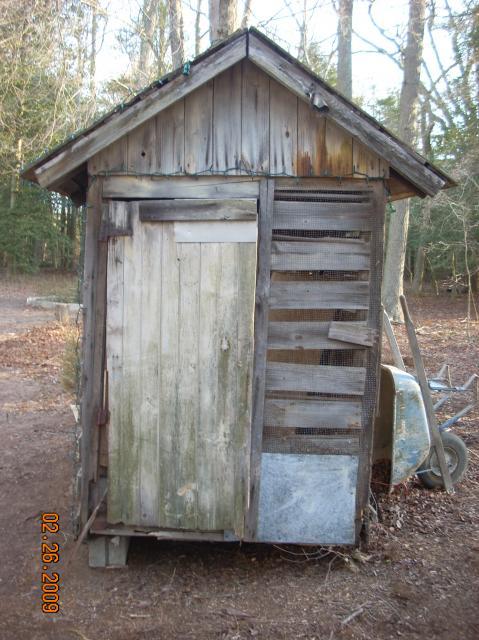 This is the original door. There was no way to keep predators out of this thing.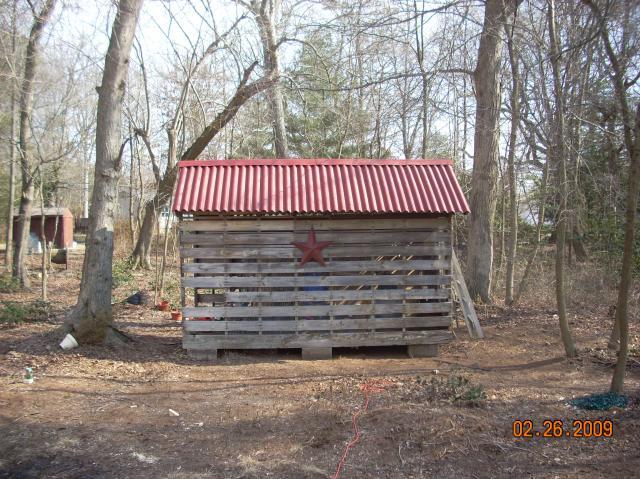 We bought this material for the roof from Lowe's. Not quite sure what it was called, but it's not metal. Kind of like the material that roofing tar paper is made of, only much thicker. Hopefully it will work.
We wanted to add some light to the inside, so we went to an antique store and bought three windows for $9! Bargain.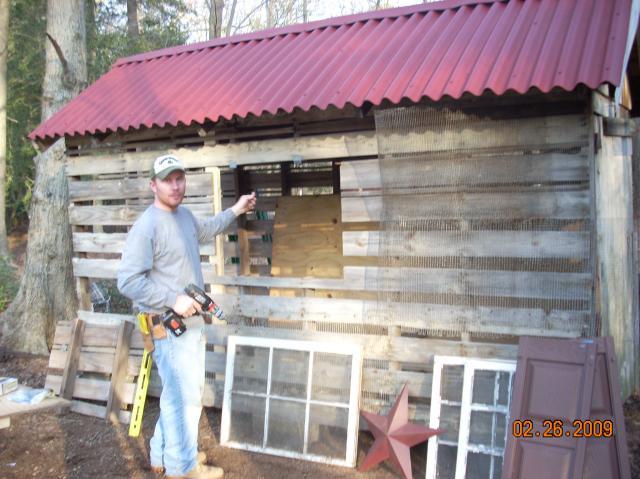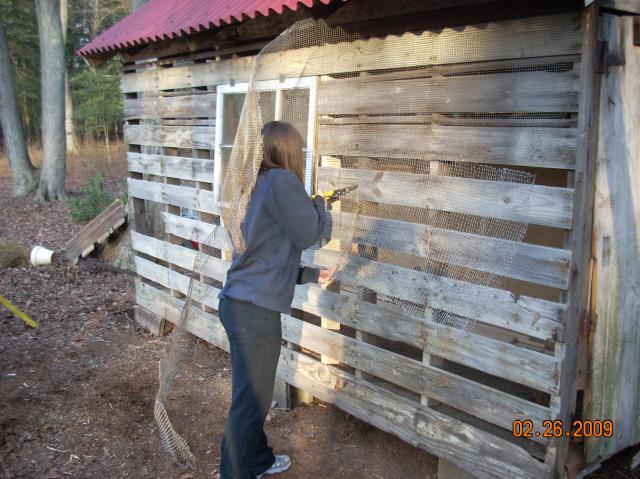 Very official looking. Never fooled with windows before.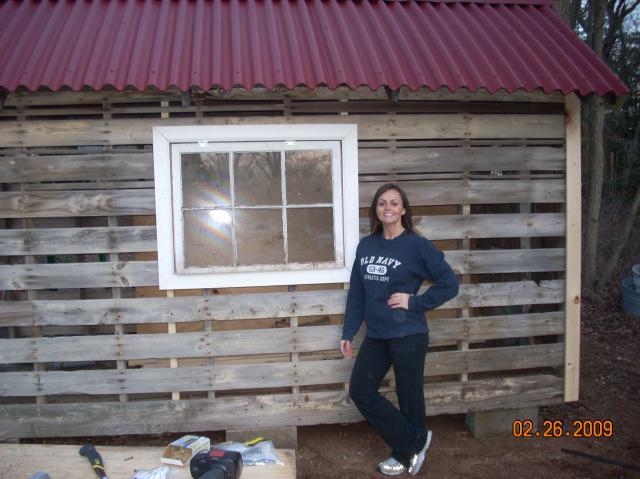 Here's Kelly standing by the first window. Notice it's getting dark in the background. Cold too.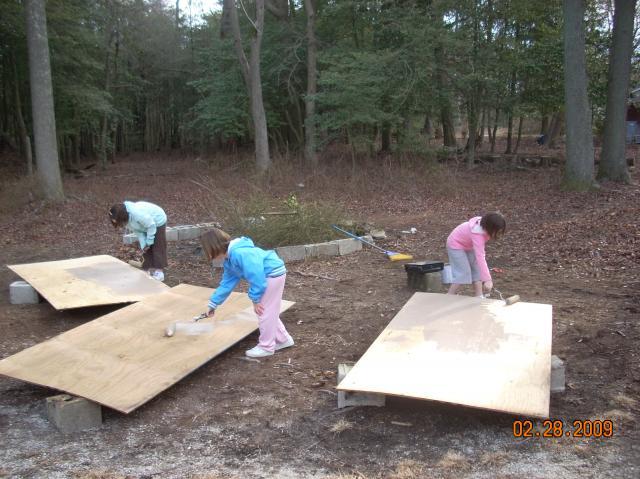 We got the three girls involved by bribing them with paint. Here they are painting the plywood to be hung for the walls. Very cold this day, I'm suprised the paint didn't freeze.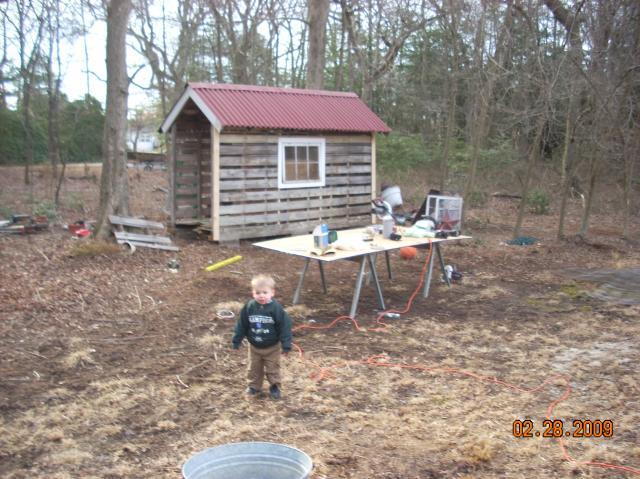 If Dad is hammering something, then Mason will hammer something. This is the smallest helper.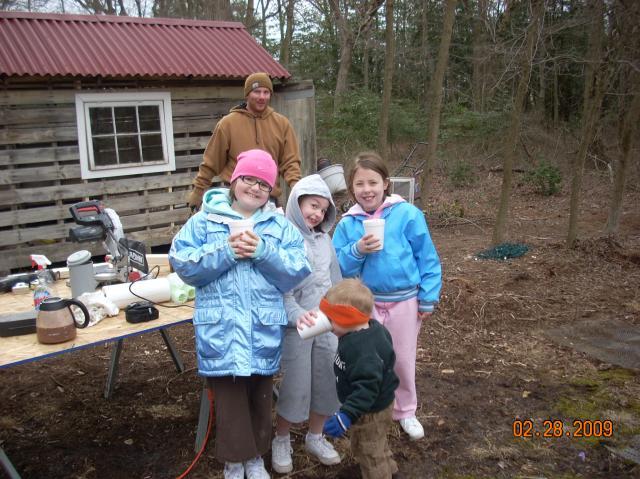 Our help needed a mandatory hot chocolate break. What are they wearing???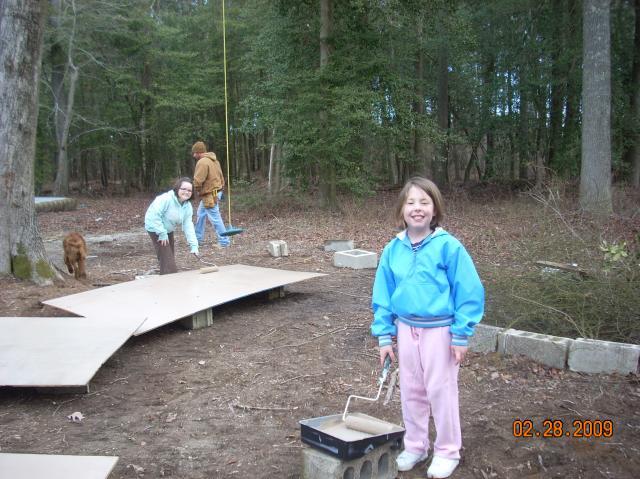 Bria and Malorie are showing off their work.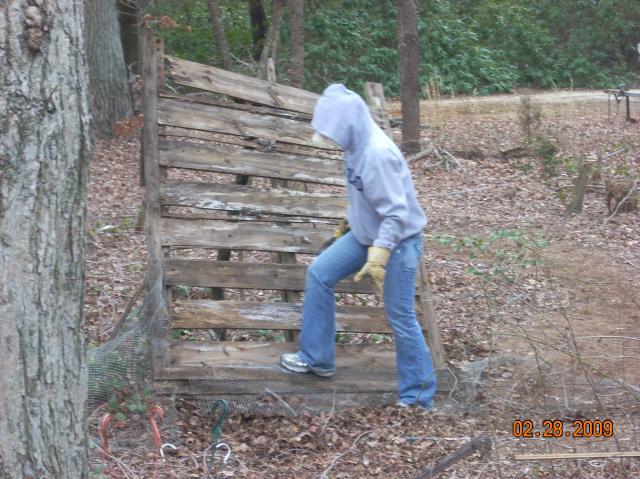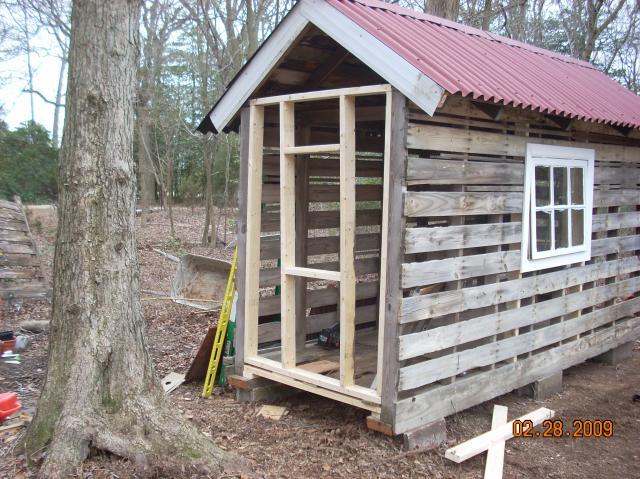 Here's Kelly taking the old wood off to be used on the newly built end wall.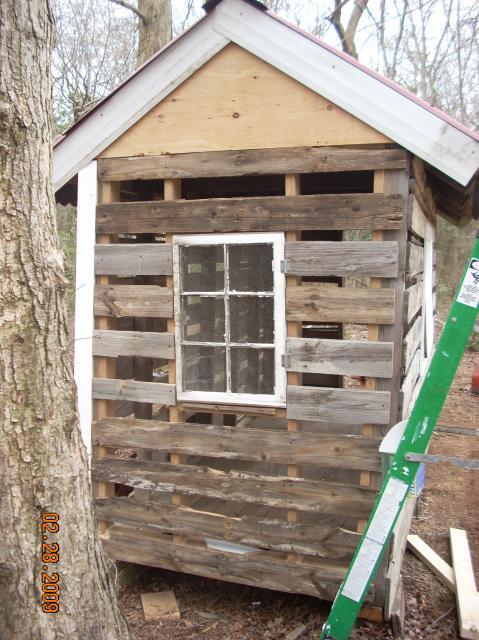 The newly built end wall. The window even works!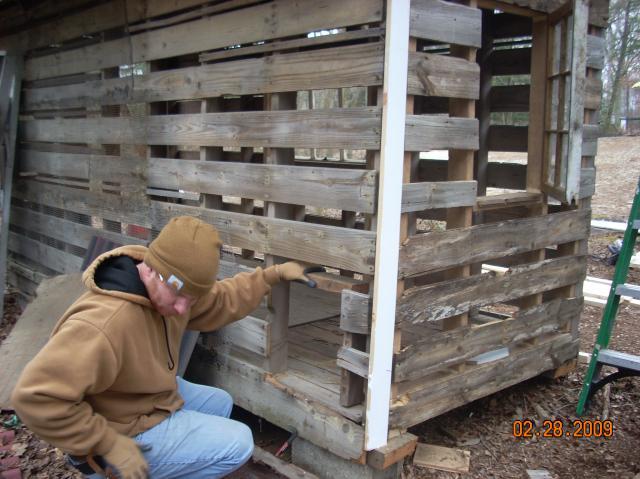 Here I am building the door to the run.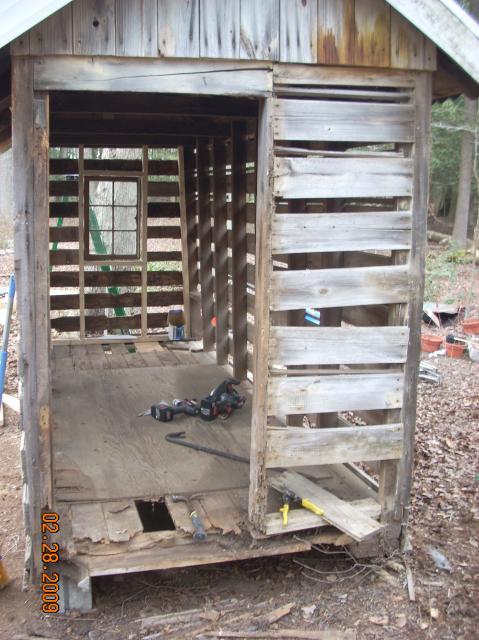 Started working on the door and found out the whole end was rotted. Had to rebuild that too!
Grandmom came over to check on progress. 2 year old Mason decided to explain to her our approach. There were lots of boogies and a runny nose on this day.
Our progress was delayed because of this snowstorm. The first real snow in south NJ in a decade.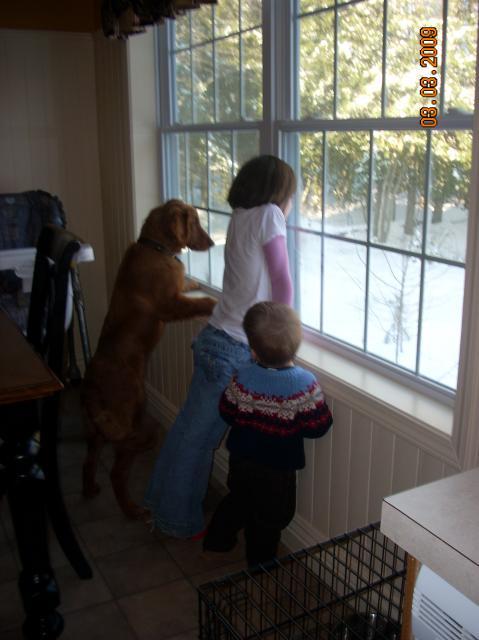 Leah and Mason are very excited to get back to work. I guess the dog is too.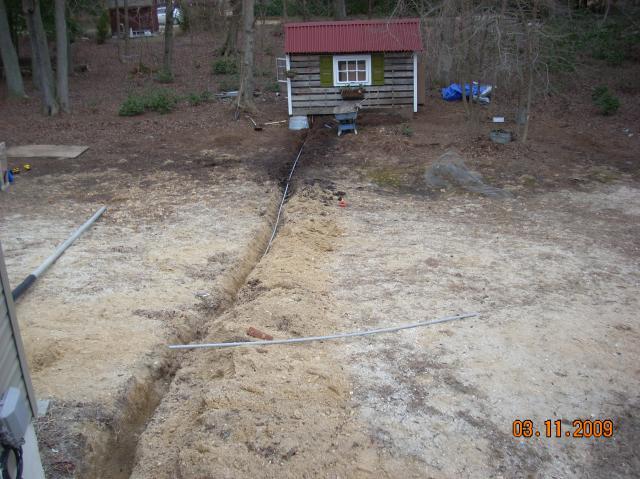 Like I said earlier, the ideas just kinda flowed. So here we are digging a trench to put a water spigot (is that how you spell that?) and electric for lights in the chicken coop.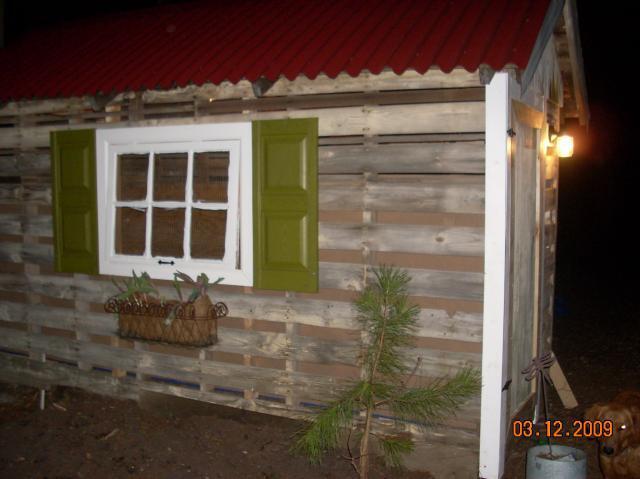 Here's a picture of the newly installed lights. As you can see, we now have the door hung, shutters on and some trim. Kelly decided she couldn't wait to start planting around the building as well.
Here's the most last bit of progress on the outside for now. The door has been rebuilt and hung. It even works. I can't believe that. We have reused the old chicken wire and put in the windows.
Me and Mason hanging the plywood on the inside. He loves to help.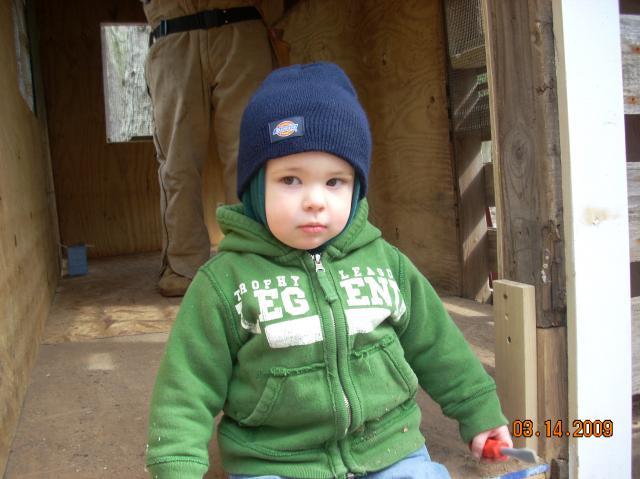 As of late March, we still have some finishing touches on the building itself, including rebuilding Kellys old nesting box and tightening the building up for predator intrusion. Only a few more weeks til we can get our chicks. We still have to build the run. When those pictures are ready, I will post them as well. As you can see from this webpage, I am still learning to use the design features, but it is a very nice website.
​