If this is your first time on BYC, we suggest you start with one of these three options:

If you're already a member of our community,

click here

to login &

click here

to learn what's new!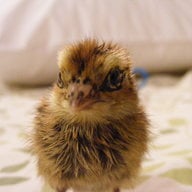 lightchick
Overrun With Chickens, from Minnesota
Loading...

Loading...

About

Location:

Real Name::

Messing A. Round

Website::

"Behold the fowls of the air: for they sow not, neither do they reap, nor gather into barns; yet your heavenly Father feeds them. Are you not much better than they?" -Matthew 6:26

Jabber::

"Yesterday I accidentally swallowed some food coloring. The doctor says I'm OK, but I feel like I've dyed a little inside."

Psychiatrist: What seems to be the problem?
Patient: I think I'm a chicken.
Psychiatrist: How long as this been going on?
Patient: Ever since I came out of my shell.

ICQ::

With joy you will draw water from the wells of salvation.
-Isaiah 12:3

MSN Messenger::

Now faith is being sure of what we hope for and certain of what we do not see.
-Hebrews 11:1

We live by faith, not by sight.
-2 Corinthians 5:7

Interact

Loading...