_This space intentionally left blank_
Premium Feather Member
Aug 8, 2019
9,139
45,542
977
My Coop
Over the last 4-5 weeks I noticed the egg production had gone way down after I had done a) the last spray for mites and stuff & b) the whitewash next coating.
The key details I'm gonna stand with are these two details:
1) the alpha Roo has really been wearing the girls saddle feathers off. So much so one girls chilling in a crate while her side puncture is healing along with the feathers starting to grow back finally…..
2) the curtains not re-attached to the laying nests.
so last weekend I had pulled down 3 of the bags of pine shavings; 2 were opened and "rolled shut" originally. Well I found several in the shaving bags (6-8 eggs iirc) I will likely need to candle them after tonight's surprise….
The long plastic clear tote has been a egg dropping ground the entire 4-5 weeks! Effectively attic incubator given the nights stayed above 80 the entire time and the days hit 100 routinely.
found ~30 eggs up thar!
These are the 10 best developed egg examples in these photo's ones of the batch.
here are the 10 eggs (I doubt any are still developing as we had 3-4 nights dip into the low 70's and none of these have been rotated. They ALL look to have stuck to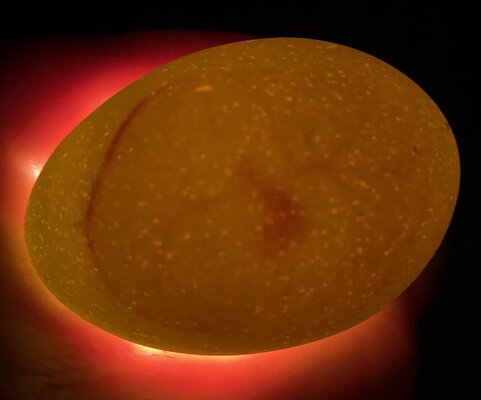 As a parting note, 3 eggs had turned green.
And one egg literally exploded when I dropped it intentionally onto the lip/ring of the Sinkerator…whhoooweeee it stank!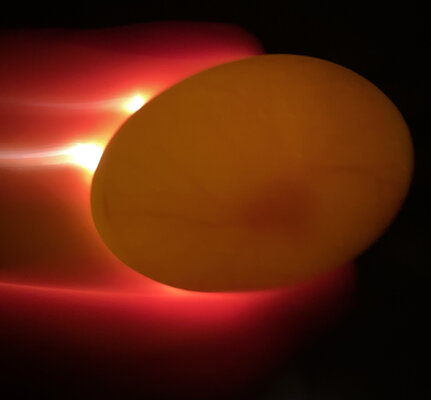 (this is just a cool extra shot)
these are the rest of the shots, the website saw fit to overrule my plans to keep all egg shots together after several tr'm debating on putting a few of these under a broody Momma tonight - on the off chance any of these your starts might still be growing???
thoughts?