Love God, Hubby & farm
11 Years
Apr 13, 2008
8,372
425
326
These came from ducks bought from Promise landfarm5 here on BYC. I've had wonderful hatches - see the latest below. I am experiencing crested and non crested ducklings in the hatchings. (they were still drying out a bit....it was crowded in that stryofoam with 21 of 23 hatching!: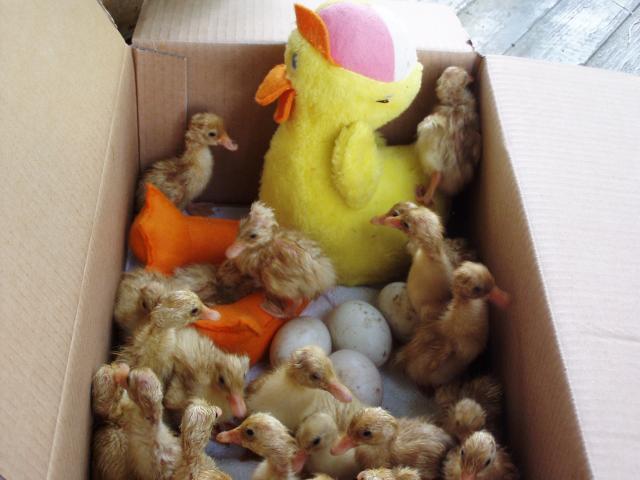 If extras are available on the day of shipping and not part of another order, we will include those.
Some of the parents of these eggs (they were not quite full grown in this picture!)
The shipping will be computed based on your zip code and whether you want USPS insurance or express mailing instead of our regular priority shipping so that's why shipping shows $.01.
We ship eggs in the same way we would like to receive them. We bubble wrap each egg separately, putting in a regular box (not an egg carton) which is then cushioned and set in a larger box. These are not the prepaid priority boxes but we use the large boxes that can be ordered through USPS as the standard mailing box. Our mailing costs can often be higher than the prepaid boxes but we find that they arrive in better shape, so it's well worth the extra time, packing materials and shipping costs. Occasionally with a large order, we will use an even larger outside box.
Even as carefully as we ship, we cannot guarantee that there will be no breakage in transit. We do not guarantee the percentage of your hatch as the incubators temperature and humidity are very variable.
We will provide assistance to you during the hatch and help in every way possible to have the best hatch possible.
We are a chemical free farm and farm full-time. We feed our animals with the best feed, sprouted grains, fresh grasses, treats from the garden and loving care.
Please check out our feedback.
http://spreadsheets.google.com/pub?key=pcz6aC_klXJDTE8H01hR-RA
and also in the new system.
We accept paypal and USPS money orders and cash if picked up at the farm.
Just hit buy when you are ready to purchase please.
We also have feed back in the new system as you'll see above. Please pm me with any questions. Thanks and have a blessed day. Nancy
"Remember God's sunshine in your heart and soul shine in the Darkness" by Nancy Garry.Jacque & I raise & sell vegetables,goats, bunnies,hatching eggs/babies: turkeys (5 kinds),geese, ducks,guineas,lavendar orpingtons,Speckled sussex,Black Copper Marans,RIR,Barred Rock,Welsummers,White Leghorns,wheaten marans ,blue, black and splash orpingtons, delawares, easter eggers, split black/lavendar orpingtons on a small Bowdon/GA farm
Last edited: