Love God, Hubby & farm
11 Years
Apr 13, 2008
8,372
425
326
Our beautiful full bodied Buff Orpingtons are featured here. I always love to tell our visitors that this beauties with their shiny feathers and golden hair have the same color of my hair as a child! We full time farm and treat our birds to the best feed, shelter and fresh veggies from our chemical free garden and give them ongoing loving care. This is a non hatchery flock and we breed toward standards. This flock has continued to lay well despite the cooler weather and I don't anticipate a change in their laying patterns, but if there is one, I'll be in touch with you. Based on current laying patterns,
I expect extra eggs to be available!
but do not know how many

!
Package is anticipated to ship immediately after close of the auction and payment. If Paypal is received by 9:00 pm, EST on the closing day of the auction, it will be shipped that day. Ship date is expected to be Monday, March 7.
Buff Orpingtons -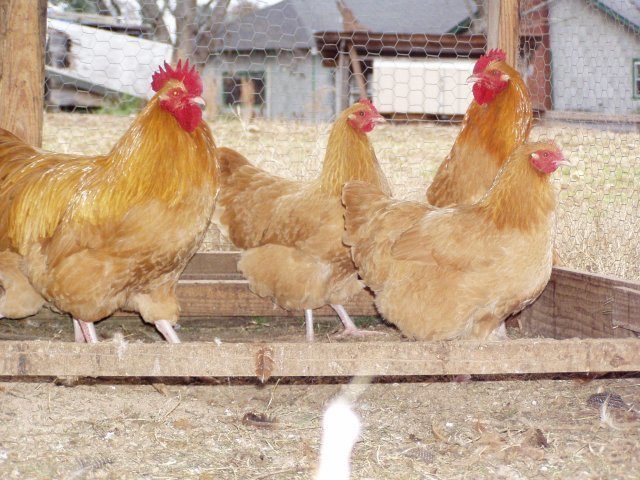 Jedalamoma reported EIGHT little babies from The Garry Farm buff Orpington Eggs that were shipped to her !!!! I'm such an excited Granny Nanny that I had to share...But Jedalamoma I want more pictures!~

Here's what she wrote:
"8 are bright, healthy, and fluffy as can be!"
Well, I'm pleased to say we have a pictures of those little ones..... drumroll for a few seconds please ...
Here it is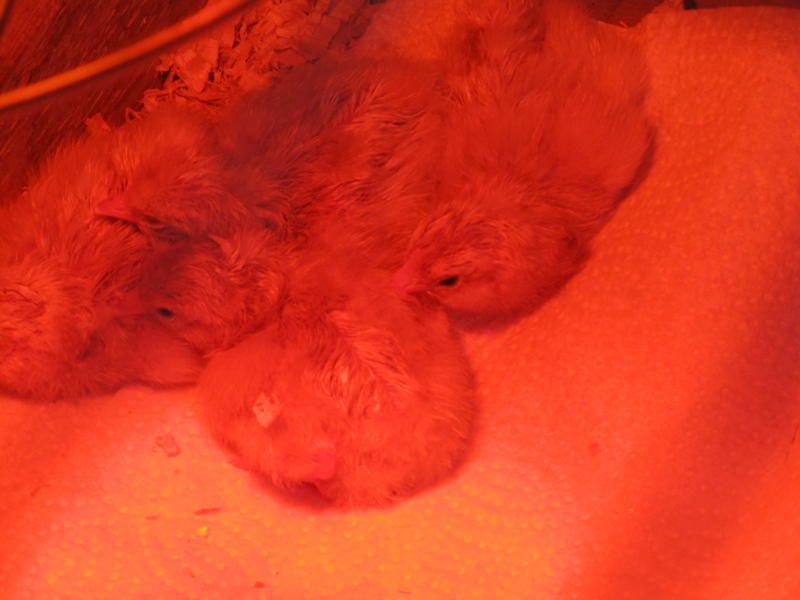 They are under a red heat lamp and there are later pictures below!!
If there are any photoshop experts that can eliminate that red light look, please let me by fixing that photo! I tried and somehow I don't know how to "edit" photos!!!
Jedalmoma, please keep those photos coming. Well I'm back outside to work on the pens...It's a glorious sunny Day in Georgia... Have a blessed one. Nancy
Here's my favorite so far from Jedalmoma!
And another group photo! Look at my grand kids grow:
Thanks Jedalmoma!!!
Payment and Shipping and Handling details:
In order to mail these after the close of the auction, please paypal the us at the following address:
[email protected]
Payment and Shipping and Handling details:
In order to mail these after the close of the auction, please paypal the us at the following address:
[email protected]
Be sure that your paypal mailing address is current and if you want to pick up at the post office, please let me know via a pm your phone so I can put it on the box!
If you want insurance, please send $18.70 not $16.70 for shipping as the insurance from USPS costs us $2.00 more. If for any reason you want us to add a heat pack to the package, it is an additional $2.00. Our shipping is average cost based so that you can pay immediately at close of the auction.. We ship eggs in the same way we would like to receive them. We bubble wrap each egg separately, putting in a regular box (not an egg carton) which is then cushioned and set in a larger box. These are not the prepaid priority boxes but we use the large boxes that can be ordered through USPS as the standard mailing box. Our mailing costs can often be higher than the prepaid boxes but we find that they arrive in better shape, so it's well worth the extra time, packing materials and shipping costs. Occasionally with a large order, we will use an even larger outside box. After carefully preparing you package we drive your eggs to the Post Office, where our local post office sets the egg shipments to the side to protect them. They are then placed on the truck on the top of all the other boxes!
Even as carefully as we ship, we cannot guarantee that there will be no breakage in transit. We do not guarantee the percentage of your hatch as the incubators temperature and humidity are very variable.
We will provide assistance to you during the hatch and help in every way possible to have the best hatch possible.
If you also want to place an order for Buff orpingtons, please just pm me.
Please check out our feedback.
http://spreadsheets.google.com/pub?key=pcz6aC_klXJDTE8H01hR-RA
We also have feed back in the new system as you'll see above
For more information about our farm, please see
http://www.freewebs.com/thegarryfarm/
(testomonials are also available on that page) or see us on fbook at The Garry Farm
Please pm me with any questions/orders and we'd be so honored to fill your order. Thanks for your interest.
Happy bidding and have a blessed day and Happy New Year!
Nancy