Certified Poultry Accruer
11 Years
So Saturday we slaughtered our 50 Freedom Rangers and one superfluous Ameraucana cockerel. We had 8 adults and my two nieces helping. Everyone showed up between 7:30 and 8:00 and we started setting up our equipment. It took us a bit to figure out where we wanted to process the chickens, and we eventually decided to do it on the backside of our yard, because we were going to point the plucker runoff toward a dry creek bed that runs through our property.
We had a chopping block, a line hung between two trees for bleeding them out, two turkey fryers that we used to scald the birds, one freshly constructed Whizbang Chicken Plucker, two plastic top tables and a fish cleaning station for processing, a multitude of ice/water filled coolers, knives and bowls, a little bit of experience, and a whole lot of enthusiasm. Of our group I had only processed one bird and another one of the ladies had done 5-6 birds. For everyone else it was a brand new experience. Luckily I have a subscription to Backyard Poultry and Harvey Ussery's guide to processing chickens came in very handy.
We started chopping heads (and by we I mean one of the guys) at around 8:30. After chickens finished flopping (And boy do they flop and run. Talk about creepy!) we hung them up and let them bleed out. After they looked bled out we scalded the first bird, and then carried him over to the plucker. On the inaugural run, everyone gathered round the plucker to see how/if it would work. And boy did it!! Those babies were picked clean! There were a few feathers left on the tails and under the wing, but other than that it was smooth. Not even any pin feathers! That convinced us we'd made the right decision in building the plucker!
The carcasses really started stacking up on us ladies as we tried to orientate ourselves on the fine art of eviscerating a chicken. About 5 birds in the guys decided the plucker belt needed a tensioner after all, so while they worked on that we were able to get our feet under us and start getting the birds finished up more quickly. So we had 3 ladies (and my niece for a bit) eviscerating the chickens, and I got stuck with gizzard duty. Took me a while to get the hang of cleaning them, but once I got a system down, it went pretty quickly. Once we got the birds eviscerated and washed off we tossed them in the cooler.
We really made quick work of the birds. We were pretty well finished with the birds and clean up by 11:30. Everyone was shocked with how quickly we were done. We had all expected it take a good portion of the day.
After adding up all expenses for feed and the cost of the birds (but not any capital expenditures like pluckers, feeders, waterers, etc) I estimate our cost at 68 cents/pound of live weight. I have not yet weighed them after processing. I'll do that as I vacuum pack them. The birds are currently resting in a cooler filled with ice water.
All in all raising meaties was a enjoyable experience. I was sad to see them go, but I'm so relieved not to have to tend to them anymore. The next time around I'm going to try to figure out a few ways to make it a little less labor intensive to care for them. I think the group consensus was to try doing this again in the fall. I for one do not want to deal with meat chickens during the heat of the summer.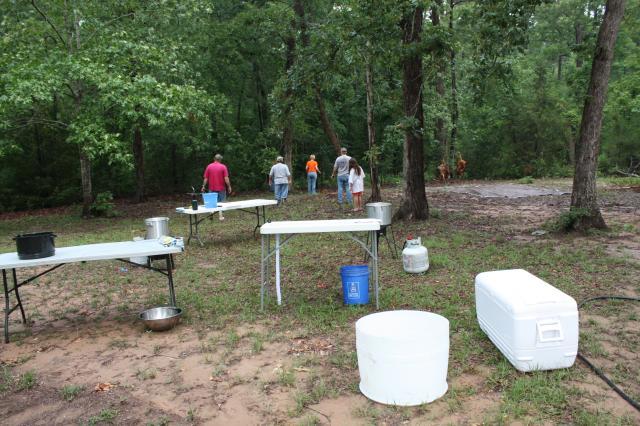 Our setup - the tarp to the right is where the chicken plucker went.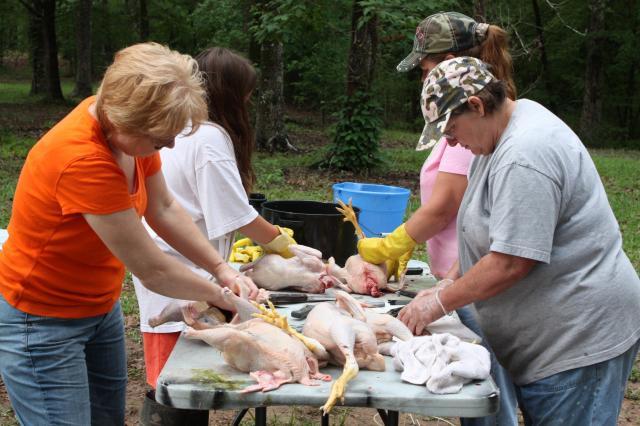 The evisceration station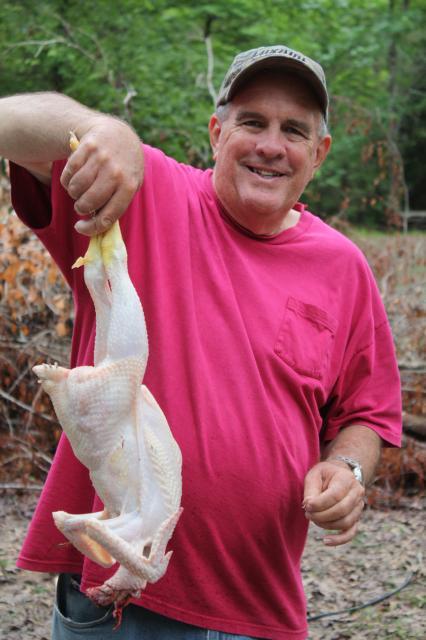 Clean as a whistle after coming out of the plucker.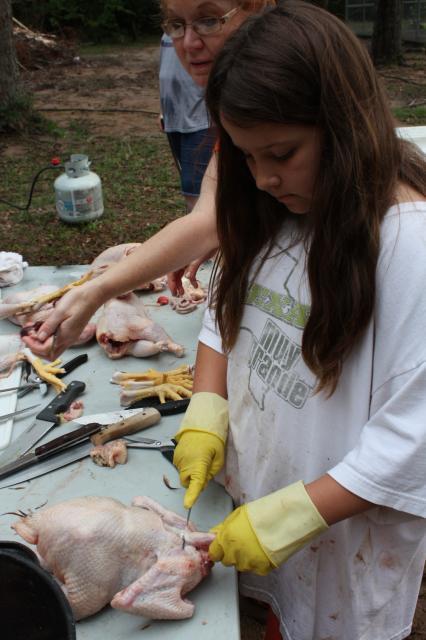 My 9 year old niece eviscerated a chicken all by herself!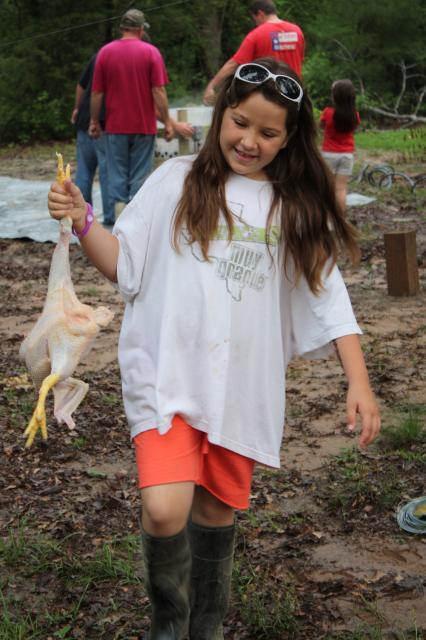 She seemed very traumatized by the whole process...
My 6 year old niece was in on the action too.