Crossing the Road
5 Years
Nature has an incredible impact in our lives. Everything around us- including ourselves- are a piece of nature! Though many wonderful people try to preserve this amazing aspect of life... a lot of the world is taking it for granted.
For it is when we rule out nature- that the next generation of our universe is in trouble. We must do our best, even by the smallest thing, to help rebuild the future.
I love photography. I love birds... both of these things are a very big part of my life. By feeding the birds that visit my property, I can both feel good helping them
and
I can enjoy taking pictures.
I like to study the migration patterns of different species. When I see an Eastern Phoebe prepare for a third brood... I tend to think the winter will be rough, or, something's happening where they migrate that we don't know about.
Whether it is fracking or depositing nuclear waste- there is a lot changing our world today.
How many of you enjoy feeding the birds? Maybe putting oranges out form the Oriole? Or sunflower seeds for Chickadees and Nuthatches? What set up do you have for your property guests? Share away!
My parents thought I was silly- setting up random pieces of wood and rocks in the middle of mud season. In Spring, I raked sunflower seeds into the dirt, along with a few annual flower seeds such as Bachelor Buttons and Carpet of Snow.
We always fed the birds... but this was my way of participating in a small, safe spot of land for nature. Then I had more songbirds than I've ever seen in my life, all visiting the yard! Buntings, Tanagers, Vireos, Orioles, Yellowthroats, Redstarts, Warblers of all different kinds... it was my best birding year, yet.
From left: Indigo Bunting, Red Winged Blackbird, White Breasted Nuthatch, Chipping Sparrow, Rose Breasted Grosbeak, Gold Finch.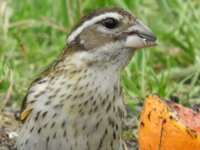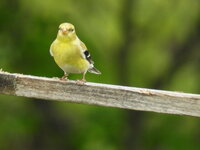 Now I've decided to advance the feeding station. I'll be moving it over a little bit, making a rock-lined dirt circle with flowers, shrubs, a feeder, and a bird bath. This is just the beginning! No costs! All nature!
I created this thread in hopes to find like-minded people... and to see the wonderful creations they come up with.