Égalité
Staff member
Premium member
8 Years
Jun 28, 2011
39,107
23,964
1,252
A Haunter Run A'fowl Picture Contest​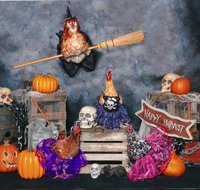 Show us how you and your poultrygeists celebrate Halloween and you can win one of THREE PestOff Rat & Pest Proof Poultry Feeders proudly sponsored by Home2Yard.
---
​
How to enter and contest rules:
- Let your imagination run wild! Decorate some eggs, or the chicken coop/run, or create a Halloween costume for your bird(s)
**Photoshopped entries will be accepted for the poultry costumes**
Anything Halloween and poultry related will be considered, but please note: It has to include poultry, eggs, or poultry housing/equipment!!!

- Reply to this thread with a pic (or two, or three) of your entry.

-
Only one entry per member will be accepted.

- A panel of judges will pick the three best entries and the winners (3) will each receive a
PestOff Chicken Feeder - Rat & Pest Proof Poultry Feeder
sponsored by
Home2Yard
!
- Entries close at midnight on the 1st of November (The day after Halloween)
Prize Details:
PestOff Rat Proof Chicken Feeder Kit
· VERMIN PROOF - Not just 100% Rat proof poultry feeder, also mouse & large bird proof. HYGENIC & NO MORE NEED FOR RAT POISON
· NO SETTINGS TO ADJUST - AUTOMATICALLY PEST PROOF - INDIVIDUALLY spring loaded feeding ports only let chickens feed not pests. Patent pending.
· LARGE CAPACITY OF 4LTS / 8.00LBS - WEATHER PROOF - so no feed clogging & no need for constant refilling - Ideal for 4 to 6 hens per feeder. Great for feeding layers pellets, crumbles or mixed corn. Made from food grade materials and non rust stainless steel.
· HYGENIC & NO MORE NEED FOR RAT POISON - Unique anti spill design means LESS FOOD WASTAGE. The Unique design also minimizes raking and thrashing action and also means NO VERMIN defecation in the food that can cause disease & potential flock wipeouts.
· EASY TO CLEAN & EASY TO FILL - ANTI-SPILL DESIGN - Comes with carry handle, a metal hanging bracket and screws, 40cm / 15.7 inch long non rust stainless steel chain and hanging hook for easy hanging. PestOff Feeder Guarantee Included - SAVES you money as NO WASTE and only the Chickens feed, not the hungry pests! If you are not 100% satisfied we will give you your money back in full.

Entries close at midnight on the 1st of November (The day after Halloween)​
Last edited by a moderator: