I'm not really sure if this is an appropriate place to post this but this is where I've seen most egg selling business talk goin' on.
We are soon to have more eggs than we can eat or give to neighbors. I'm sure we'll be creative with noodles, pickling, freezing, and other such storage methods but we are also looking to sell a few as well. We plan on selling mostly at a local 'unofficial' farmers market. (no assigned spaces, no committee, no fees - people just kinda show up on Saturdays in an empty lot with a table and sell stuff and nobody seems to have an issue with it). Anyways, at our local market, nobody is selling eggs (there is a market 20 miles away that you have to pay annual fees for that have 3 egg vendors selling at $3.50 - $4.00/doz.) We also acquired approx. 200 blank egg cartons while hitting up some garage sales recently and just wanted to dress them up a little.
The options so far are:
1: A sticker for the top of the carton with basic info
2: A slip of paper with some 'chicken info' taped to the top
We don't really want a phone number or our address on it. If people need to contact us for anything I'll set up an email.
Just curious on what you guys do (if anything) or what your thoughts were.
I know if I'm gonna use this one it has some touch-ups yet to do, and no we aren't called 'white trash farms'. We don't know what we're calling ourselves yet.. just something I threw in there for now.
So.. To the point.. if I can get a pic uploaded, lemme know what you thing - any advice or pointers.. things will change soon anyways with the addition of quails and rabbits.
Thanks in advance.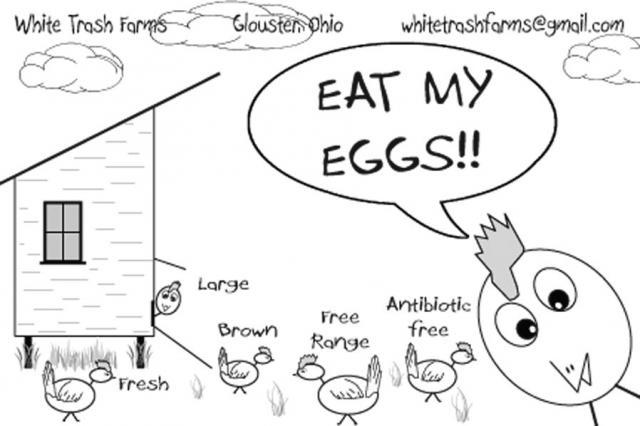 *
edit - I can't tipe
Last edited: