We have 4 hens, all about 1.5 yrs old and pretty fat & healthy
We noticed that instead of the 3-4 eggs we've been getting regularly, we've suddenly started getting only 2/day the past couple of days. Upon investigating, I noticed that the underbelly of one of the chickens is bare in places (like she's been picking at it) and there was a dry scab-like spot of skin. It's not really a wound like from overzealous pecking (there's no blood), it's like a deep yellow. No pus- but I wonder if it's some kind of bug.
I looked up breast blisters, cuz it turns out they ALL have these on their underbellies- near their breast bones, but it looks like breast blisters are more fluid-filled.
The birds seemed to be happily ranging, eating & drinking as usual with normal droppings. I'm spreading out some extra DE in their coop/food on them. But have no idea what this is & am hoping this is something I can remedy.
The chickens have a coop with deep litter straw bedding, of which I shoveled some out last week & spread some clean, fresh straw... maybe I turned something up? They are confined overnight & are "let-out" to range for a few to several hours each day, depending on the family schedule (we like to be around because of predators).
Here are photos of the "sores":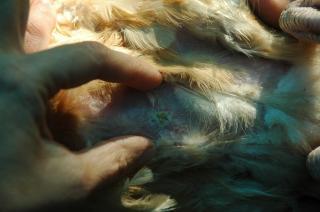 Last edited: