My baby is turning two tomorrow! I know, it shouldn't be a big deal, but this is more difficult for me than her first birthday. She has changed so much in the last year. I just packed away her diaper bag because she prefers to carry a backpack of her own and we also packed away all the baby gates because we don't need them anymore. *sniff sniff* I just have to post pictures of her. One from the day after we got home from the hospital, and one from just a couple of weeks ago.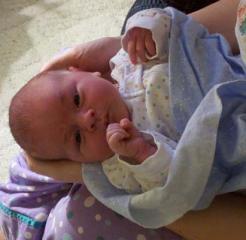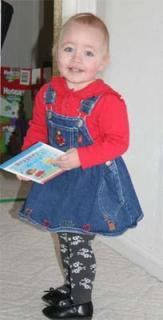 Now for my bit of a rant:
Why do people insist that we have another child when I mention that she's going to be two and I can't believe how much she's grown up? If I thought it was truly time for that right now, then yes, we would have another. Good grief, I have enough to worry about right now. I'm still trying to figure out all this depression crap and I'm not ready to go off my pills for over a year (gestation plus nursing). Maybe in six months I'll be in a position to mentally and emotionally handle that. Then, yes, another baby may come. But people just seem to take it for granted that all people want another child right away and don't have any reason to wait! Grr... Pretty soon I'm going to answer: "I didn't know my sex life was so fascinating to you. If you would like you can come over and watch, but really there wouldn't be much to see."
Sorry if that seems crude. Just let me know and I can erase that part. I do like my dad's response to my pseudo-grandma. "Well, I try to stay out of that part of her life. She's got it all figured out for herself now."
Okay. Rant over. My "baby" is trying to help me type and wants me to go play farm. In all reality we have to go to town and get stuff for her birthday party! She'll have fun with that. It's just the grandparents and my husband's uncle and aunt coming tomorrow. That should be plenty of people and surprises for her.