So this is the old feed shed that is being converted into a coop. As you can see it is a fix'er upper in this picture, which is a month old. A lot of progress has been made since then. New shingles and a new eve have been completed along with removed rot. Restoration of the outside walls is coming along and the next step is to frame up the coop on the inside and frame up the run. I know one thing, restoring an old neglected shed is way more work than building a new one. This is taking forever.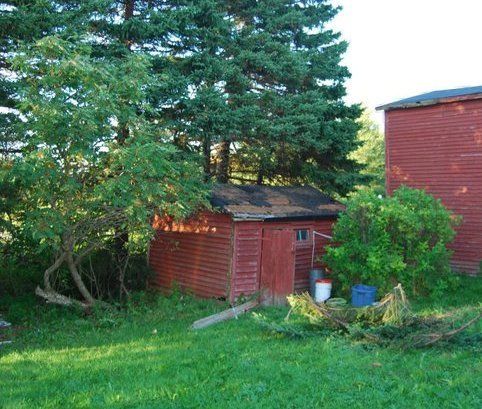 The shed is about 10' X 15' - two thirds of that will be for the coop, the other third will be for storage etc.
The big problem I am having is that roots and big rocks are impeding my ability to properly bury the hardware cloth around the edges of the coop and run. You can't see it in this picture (I will post more this weekend). I think my solution will have to be to build a section of the run raised about 1.5' off the ground where the rocks and roots are and then have a little ramp down to the ground level portion which will encompass that rose bush and the area between the shed and stable (you can see the stable to the right of the little shed).
I plan for the run to be about 20'X20' in total to give the hens lots of space.
One thing I am concerned about is the proximity of this shed to my house. The property is about 5 acres, but it has not been used in almost 20 years (except for the house itself), so it is far to overgrown to build a coop away from the house given my current time crunch.
The shed is about 40' from my back door. Do any of you think this is too close for 12 hens? Will smell become a problem? I would be interested to know whether anyone else has a coop this close to their house and whether they have any problems.
Also, I am wondering if the run is not completed how long is it ok to keep the hens inside the coop while I complete the run. Work is getting in the way of this project a little and is slowing me down.
Thanks a lot,
Bill