This heatwave is kicking our butts! I have been going out to check on my girls' food and water all day, and adding ice cubes to the water. I've been making sure they stay in the shade. I gave them some frozen broccoli.
Buttercup, my BO, has been especially miserable. She is so fluffy! One time when I went to check the girls, Buttercup really had me a little scared. She was panting so hard, and looked weak. She was holding her wings out away from her body. I held some ice water to her and she wouldn't drink. She wouldn't taste the broccoli. I was panic stricken! So, I filled a casserole dish with ice water, and dipped her feet in. But she didn't perk up. I grabbed a bath towel, and put it in the ice water. I squeezed some of the water out, and wrapped Buttercup up in the cool, wet towel. Thank goodness, she perked up after a minute or so! She even stopped panting. Then I got her to take a sip of water. After she looked better, I dipped the towel in the ice water again, and squeezed it out again. I put down a cold pack from the freezer, and fashioned a "nest" out of the towel on top of it. Buttercup settled herself right in! Whew!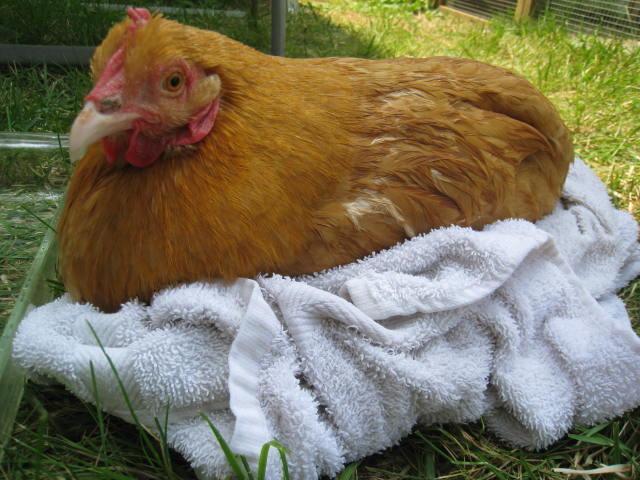 My other girl, Lillie, hasn't been too bothered by the heat. She's much smaller, younger, and less fluffy. She drinks a lot more, too.