I have a lot of jewelry: even with two jewelry boxes, I still don't have enough room for everything. And besides, have you priced those things lately? Sure you can get a cheap one from
Walmart
for $15, but the ones I found were all ugly.
While doing a search on
Ebay
one day, I stumbled across cigar boxes. They looked perfect! Many different sizes, made of wood in different finishes, and inexpensive. A little modification, and it could easliy be turned into a unique jewelry/trinket/gift/whatever box.
At the antique/junk shop today, I saw some that I liked. They fit my cirteria of being large, flat, and having nice looking wood. I paid $12 total for the two flat boxes in front. The larger box in back is one I got off of
ebay
. Not sure what it was before, but it now serves as a catch-all for stuff.
One came pretty much ready made, with a white fuzzy lining on the bottom, so I didnt' have to to anything but polish it up a bit. The other was plain wood inside. You could use just about anything for a lining; leather,satin,velvet, etc. I was at
walmart
, and, feeling pretty lazy, I bought some felt squares with adhesive already on the back. All I had to do was measure the inside of the box, cut out the square, and carefully place the felt lining inside the box. Now that's my kind of project! Instant gratification.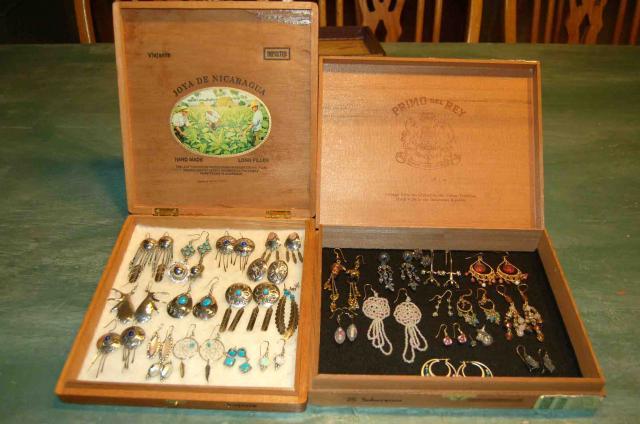 Since the boxes were a bit faded and had a scratch or two, I decided to polish up the outside with some Old English scratch cover.
You could use a stain, varnish,decoupage medium, etc. Anything you like. This whole 'project' took less than an hour, and my earrings now have a nice, new home.
Last edited: