Eggxhausted Momma
9 Years
NO SHIPPING, pick up ONLY. Approx. 20 minutes south of Macon GA on I-75.
I am putting my Chocolate runner drake up for sale. I am downsizing my flocks a bit to make room for the coming spring. I am willing to let my girl go as well, she is a fantastic layer but if you want her he man must go too. I purchased them both from another BYCer almost a year ago. I thought I wanted runners but I find they are a bit too flighty for my liking. Soooo I must part with them so when my newest flock members start to lay I can hatch out some more babies

I have been put on hatching restriction by my grandfather who says we have too many ducks

. I will let the duck go for 20.00 and the drake for 15.00 so if you are interested PLEASE PM ME! If possible we may be able to meet somewhere near my farm. Thanks.
Please note these are PUREBRED. I believe she told me they were holderreads stock. Not for sure on that but they are exquistely upright and beautiful birds. A little over a year old.
Both Mocha (duck) and Hershey (drake) together. (the darker one behind them that is upright is for sale too on another listing)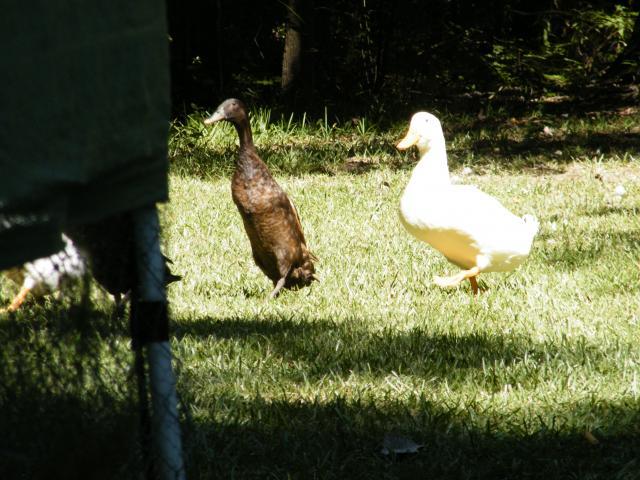 Hershey with our Pekin Drake Clyde.