So Cocoa my chocolate EE chickie is at this moment on my chest on a heating pad.... She had a bit of pasty butt this morning and I took a damp towel and gently wiped her clean much to her protest. She doesn't seem to be growing as fast as the other chicks so she's getting some extra yogurt and lovies from Momma hen. I hope there is nothing seriously wrong with her she's the only one I've named so far out of our first batch of chicks. And she looks like she will have beautiful color when she grows her feathers out too. And even though I'm supposed to be keeping these girls for eggs I don't think I'd care if she ever laid or not I'd still keep her. She loves being picked up and held even my DS can hold her and she just adores the attention.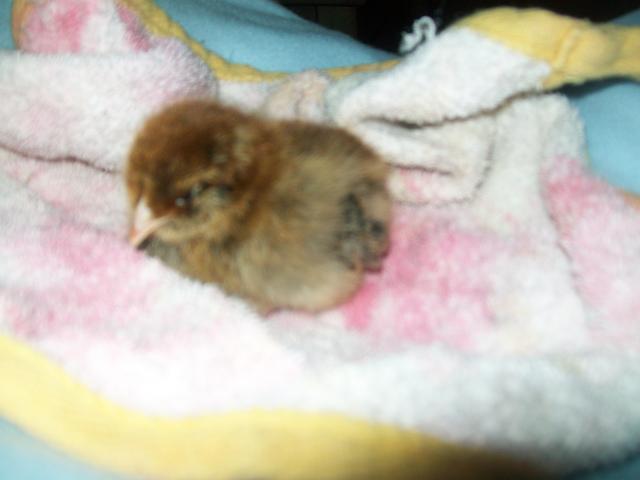 Just to note the rag isn't pink from blood that is from cleaning up a paint accident from my son around Christmas and it stained.
I use it as a rabbit/chicken rag now since I won't have to worry about it getting stained.
Going to get her some poly vi sol as soon as I get paid though I want to give her the best chance she can get to thrive she sure has won our hearts over.

Last edited: