The article is brought to you by BYC Sponsor Farmers' Helper Forage Cakes
Farmers' Helper ForageCakes - Combining nutrition and your chickens' natural instincts!
We're all concerned about our chicken's health and want to do what's best for them.
But sometimes we run into problems with our chickens that we don't know how to solve right away. Every day people come to BYC looking for the answers to one big question:
How can I ensure that my chickens lay quality eggs?
There are three major issues when it comes to preparing your hens for satisfactory egg production. They are:
1) Nutrition
2) Sanitation
3) Habitat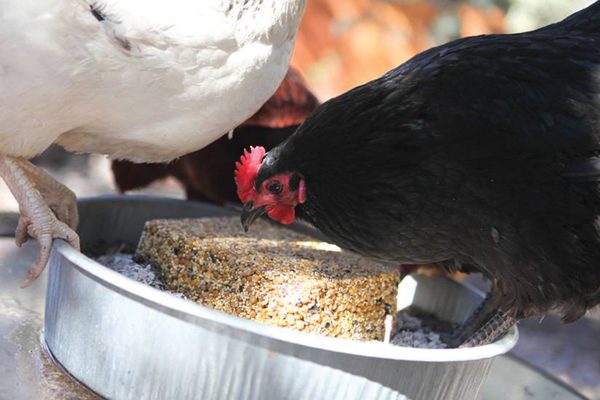 ​
Nutrition: Producing eggs is extremely energy intensive for hens. When pullets begin laying, their daily requirements for protein, vitamins, and minerals markedly increase. Inadequate intake of dietary protein and other nutrients may result in poor egg production and low hatching rates. Laying hens need a balanced diet to maintain maximum egg production over their entire life span, as well as week to week. Poor nutrition can cause hens to cease generating eggs altogether.
Sanitation: There is a common misconception that hens will stop laying or the number of eggs will drop dramatically after their second year. This is certainly true in battery conditions where crowding, poor ventilation, unnatural lighting conditions, de-beaking, and other factors leading to captive stress take a toll on the health of chickens. In barnyard flocks with appropriate housing and feeding protocols, hens should survive and lay well into their teens, if not longer. This will not be the case if consistent attention toward the reduction of mycotoxin and bacterial levels are not a top priority in husbandry protocols.
Habitat: If kitchen scraps are deposited in poultry yards, appropriate feeding stations (secure, "no tip" bowls, well off the ground) should be constructed that prevent these added foods from becoming contaminated with "poultry smut." Many people will exclaim that their grandparents always threw compost into the chicken yard with no ill effects. This is simply not the case. The truth of the matter is, no one gave much thought to the potential levels of salmonella, botulism, and mycoplasma growing in their poultry yards. The diligent management of pathogen loads within the hen house reduces immune system stress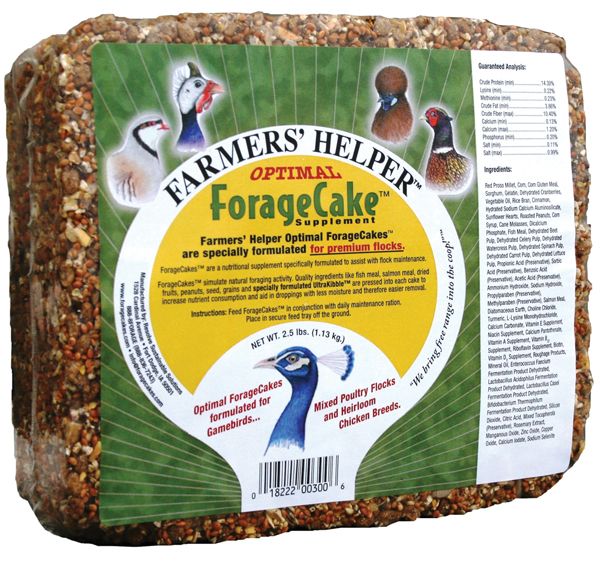 ​
levels, and can greatly increase egg production.
One of our sponsors,
Resolve Sustainable Solutions
, has some products that can help you address these problems. They make the
Farmers' Helper ForageCake
, a supplemental aspect of a chicken's diet that allows flocks to do something they do naturally – forage! With tons of quality ingredients like salmon meal, dried fruit, seeds and grains, chickens naturally enjoy pecking away at the Farmers' Helper ForageCake, practicing a behavior similar to searching for insects and other yummy snacks in your yard.
The Farmers' Helper ForageCake isn't just food – it's entertainment. Bringing out a Farmers' Helper ForageCake for your chickens helps to encourage them to participate in healthy, natural chicken behaviors.
The mak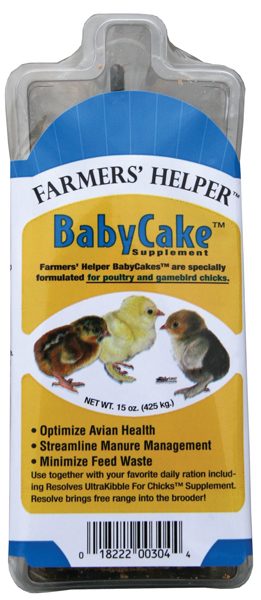 ​
ers of Farmers' Helper ForageCakes recommend starting your new chicks off on the
Farmers' Helper BabyCake and Farmers' Helper UltraKibble for Chicks
, used together with a chick starter. Then once the chickens transition from chick to adult they can move up to the
Farmers' Helper UltraKibble
and
Farmers' Helper ForageCake
, again used in conjunction with a maintenance feed. The Farmers' Helper UltraKibble is mixed in a specific ratio (depending on breed) with the maintenance feed and the Farmers' Helper ForageCake (Original or Optimal) is put out for ad
ded nutrition and entertainment.
Another plus is that the probiotics and naturally sourced vitamin E support digestive tract health, which promote more solid droppings, greatly reducing manure removal efforts. That's right – some of the ingredients in the Farmers' Helper ForageCake will help make your life MUCH easier!
The makers of Farmers' Helper ForageCakes are also excited to announce two new products that will help keep your chickens happy! These products will be out this summer!
The Farmers' Helper HotCake is similar to the BabyCake in shape and size, but it is meant for adult chickens. It contains quality ingredients like oats, peanuts, mangos and flax seed, high-quality protein in the form of crab meal, hot pepper oil for its antioxidant and antibacterial benefits, and organic acids that promote the growth of beneficial bacteria that improve the overall gut and general health of the bird while reducing E. coli and salmonella.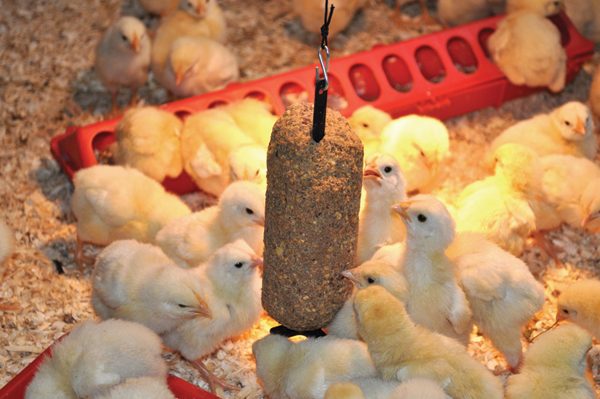 ​
Meanwhile, the Farmers' Helper Cackleberry Nugget Treats are small nuggets that have delicious ingredients like oats, pomegranate, peanuts and flax seeds, high-quality protein in the form of crab meal, and organic acids that promote the growth of beneficial bacteria that improve the overall gut and general health of the bird while reducing E. coli and salmonella.
If you want to see some really adorable videos of chicks gathered around foraging away at the Farmers' Helper BabyCake, visit their
YouTube page here
!
Do YOUR chickens engage in natural foraging behaviors? What other funny habits do they have?
Last edited: