Jun 12, 2018
2,393
6,319
421
I had two duckies escape today. One was my blue bib call whom we found randomly in the middle of the backyard. With the normal duckie face of "it wasn't me".
the second escapee was the tiny one week old black East Indie that somehow found a way to escape the pet playpen I set them up for the day in.
here is her face when she was brought inside after the dog found her.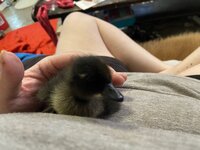 She doesn't feel the least bit remorseful for her escape attempt.