Pullarius
Project manager
Premium member
Aug 1, 2015
56,306
165,717
1,707
My Coop
Welcome to the first of this year's annual Halloween/Thanksgiving hatch-a-long contests! We'd love to see your artistic creations entered for a chance to win a prize. Three entries per member: an entry consists of one or two images of a scene or display of
up to six eggs.
Contest ends November 29th at midnight EST. See the full rules for more details.

PRIZES
First Prize
$25 Amazon gift card donated by
@honanbm
!
Second Prize
An egg steamer donated by
@Texas Kiki
!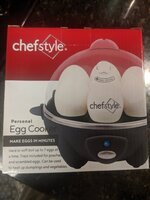 Third Prize
One three-month PFM for yourself or a friend, donated by BYC.
​
RULES
This contest is open to all BYC members, not just HAL HAL participants.
An entry must be your picture that has been taken in the past year.
Photo/s cannot have been entered in other BYC contests.
Limit three entries per member: an entry consists of one or two images of a scene or display of up to six eggs.
No fake editing or captions---we want to see the world through your eyes, not through the excessive use of editing tools. However, basic cropping is allowed.
To submit your entries, simply post your images in this thread.
Do not cut the eggs. Blowing them is okay but this is a decorating contest, not a cutting one.
Winners will be chosen by a panel of judges, and their decisions will be final.
Prizes will be given to first and second place winners.​
To accept a prize that has to be sent via mail, you MUST be over eighteen and a resident in the continental U.S. If you do not meet one or both of these criteria, you may enter as long as you are willing to forfeit or send the prize to another member if you are selected as a winner. Non-physical prizes such as PFMs are available to all.
Posts not following the rules will be disqualified from judging.
All BYC rules apply.
Terms of Service (Rules)
This contest is void where prohibited.

This contest ends on November 29th, 2019 at midnight EST—for a list of winners, check this thread around December 15th, 2019.​
Tip for Coloring Eggs:
Add 1 teaspoon vinegar and 20 drops of desired color to 1/2 cup boiling water.
Dip hard-cooked eggs about 5 minutes or longer.
Remove to wire rack to cool. After color dries it will not rub off.
2018 Winners:
@FrankieDoodle
,
@gimmie birdies
, and
@SueT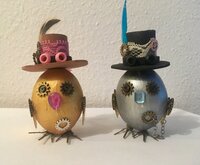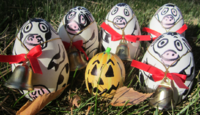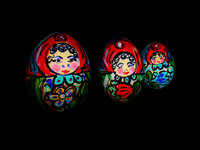 ​
We need prize donations for our other contests! It is your generosity that allows us to run these.
No item is too small. We can always use smaller items for 2nd/3rd place.
Hatching egg donations, fowl items that are new or used in good shape, BYC PFMs, Amazon gift certificates, BYC gift certificates, etc. are all great items to donate. What some of us do is purchase an item from Amazon and send it directly to the winner: just make sure they have plenty of the item in stock beforehand.
FOR YOUR GENEROUS DONATIONS!
​
Last edited: