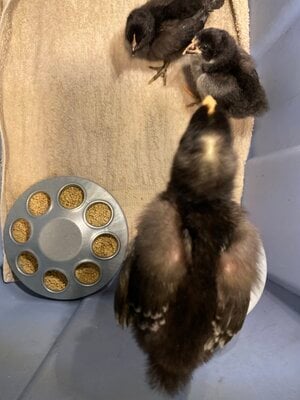 (1) Are you new to chickens / when did you first get chickens?

I am new to chickens and I hatched 4 chicks for my daughter who does raise chickens. Incubation started July 4, 2020 and hatched one July 26, 2020 and 3 July 27, 2020

(2) How many chickens do you have right now?

4 Chicks

(3) What breeds do you have?

I have no idea

(4) What are your favorite aspects of raising backyard chickens?

I am a bird lover from way back and I did have Quail a while ago, and hope to have some again.

(5) What are some of your other hobbies?

Gardening, knitting, photography

(6) Tell us about your family, your other pets, your occupation, or anything else you'd like to share.

My husband and I are retired (kinda boring stuff - skip to next - no hurt feelings) We have 3 cats and 2 dogs. I drive school buses as a relief driver, when they are not in pandemic mode.

(7) Bonus: How did you find BYC, how long have you known about BYC, and what made you finally join our awesome community?



I was looking for plans for a coop for myself and hopefully build myself. I have 0 skills in woodworking, but I have this great desire to try!