Hi everyone,
So I purchased a prefab coop and have modified it over the past year but I feel like I might want to expand it for my girls. I currently have 7 Bantams and they all seem to do fine but I'm thinking they could perhaps have more roosting space. There is the typical jossle at bedtime for the best spot but everyone ends up on the roosts and there is room to spare. ~1-2 feet on each bar? This coop is also attached to a large chicken run that is 1/4 covered. Coop size: 36"L x 36"W
So the current set up is I have 3 roosting bars up higher in an H-ish shape along with a roosting bar on the left "Nesting box" area and just have the 3 nesting boxes to the right. (They only ever really use the first two boxes.) I know it's not ideal to have any roosting bars in front of those windows but I put vent covers over them once it gets colder to prevent drafts but still allow airflow. I have carved many holes in this thing to allow for good 24/7/365 ventilation but no drafts.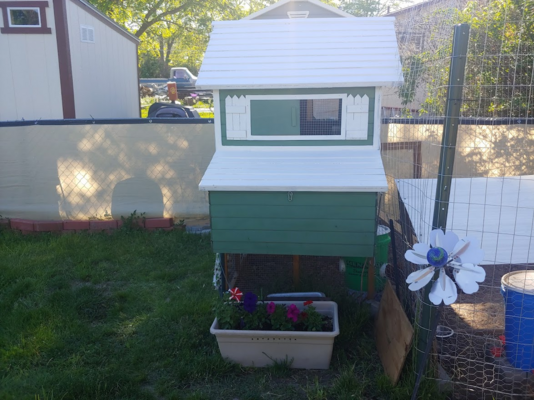 I was thinking about removing the catch tray and enclosing the bottom and maybe making more of a ladder roost? But then that would leave the door ~2.5 ft off the ground, would that be awkward for them? Would be more of a chicken tower coop.