As the subject says...is this a hen mounting my hens or is it a roo?
Bit of background info...over the weekend my husband and I went out and bought ourselves
two hens to add to our small flock. Well the previous owner told us that they were both hens.
3 days later in the early hours of the morning, when out feeding my little flock, I catch this 'hen'
mounting my other hen?!?! Now this 'hen' hasnt crowed, it has attempted to, as I witnessed this
afternoon, but no sound comes out...yet another puzzling question.
Now since, catching this 'hen' in the act, I have seen it doing it a few times with the other hens, but with
one in particular. This 'hen' is taller and skinnier than all my other hens. Its wattles and comb is larger than the
rest and its legs are much thicker.
Now the question, roo or hen?
Also, does anyone know the breed?
Here are some piccies for you all to suss out...(they're a bit blurred, but its the best I could do as it moves too much
and I've taken them with my cell phone)
Attempting a soundless crow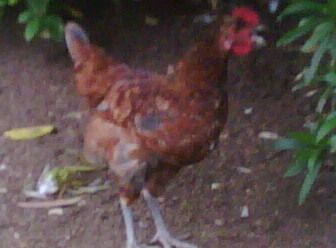 The clearest pic of the lot