UPDATE: 8/11/11
I wanted to update what is going on with my chicken. I tried wrapping her hurt leg for about 3 weeks in hopes that if it was broken it would heal.
Good news is the sore that she had in the pictures below has healed up. Bad news is she is in worse shape than she was before.
The poor girl now never puts weight on the right leg but now also seems to have become very weak on her other leg as well. When she gets up to move (using her wings) she is very wobbly and only seems to be able to hold her weight up for about 5 seconds before plunking back down. She spends most of the day sitting/laying on the lawn moving only about 15 feet in a day. She still eats and drinks ok though I think she has lost a little weight even though I continue to move a bowl of food and water around with her throughout the day. Upon re-reading the posts I had before I see the vitamin B recommendation. I had not tried the vitamins.
I purchased some vitamin B complex drops and have started her on them today. On searching the forum it seems that sometimes birds have problems with their legs/standing if they have vitamin deficiencies? I am hoping this is what it could be. My biggest issue is
am I doing my hen an injustice not putting her down
? She doesn't appear to be in pain when she is laying around BUT she isn't doing much but sitting around all day. I have to move her in and out of the coop. She sleeps in a nest box I place her in. She doesn't get to do the things the other chickens are doing. She just sits alone in one spot all day while the other girls run happy around the yard. Should I keep trying to help her get better or is it a lost cause and not right to keep my hen in this condition? Just not sure what to do. My husband wants to put her down but the kids and I just aren't ready to do that in hopes we can still help her. What to do.

OLD POST BELOW
Hi,
I have a hen that has been limping for several weeks. I figured she had pulled a muscle or something jumping down from a high place and that it would heal with time. So far it seems to just be staying the same. She is active and eats well. Today I decided to give her a bath to wash her behind and do a close look over to see if I could see any obvious problems with her leg. I checked her foot pad out really well. Tissue looks healthy. No scabs or bumblefoot. Here are some pictures of her leg.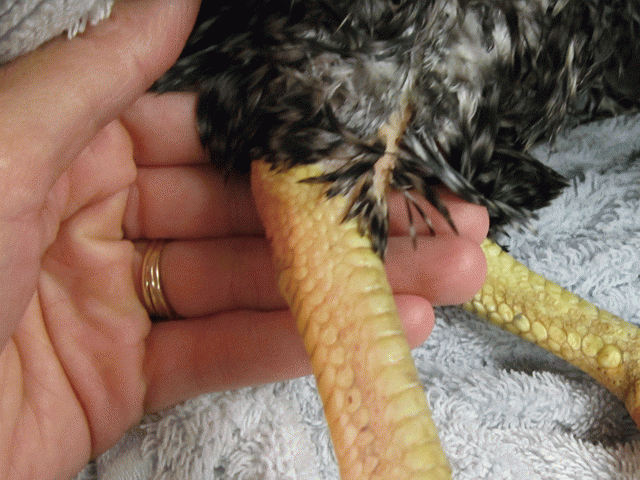 And here is video of her limp.
Click here to see video of her limping.
Her leg looks a bit flat where the sore spot is compared to her other leg. I am not sure if this is what is causing her problems or if this is a result of her laying on her leg funny for several weeks. I have felt up her legs above this spot and both legs feel about the same.
1) What type of bird , age and weight. Barred Rock, 1 year 4 months.
2) What is the behavior, exactly. She has been limping on her right leg for several weeks. It is not getting better.
3) How long has the bird been exhibiting symptoms? several weeks.
4) Are other birds exhibiting the same symptoms? No.
5) Is there any bleeding, injury, broken bones or other sign of trauma. I have pictures of all that I can see that could be wrong.
6) What happened, if anything that you know of, that may have caused the situation. No idea.
7) What has the bird been eating and drinking, if at all. She is eating and drinking as usual. She gets 20% layer mash and lots of extra wheat. She gets lots of kitchen scraps as well. She free ranges daily for a few hours and eats lots of greens in the yard.
8) How does the poop look? Normal? Bloody? Runny? etc. Normal.
9) What has been the treatment you have administered so far? I soaked her in a bath this morning. She seemed to like the heat on that hurt leg.
10 ) What is your intent as far as treatment? For example, do you want to treat completely yourself, or do you need help in stabilizing the bird til you can get to a vet? We have discussed taking to the vet but would like to fix on our own if it is obvious what is wrong and is something I can do to help.
11) If you have a picture of the wound or condition, please post it. It may help.
12) Describe the housing/bedding in use. She lives in a coop with run and free ranges in the yard. There are soft wood shavings in the nest boxes.
Thanks for any help you can give me.
Last edited: