I've been handy with building things since I was a kid and helped my pops and uncle to deconstruct, frame out walls and doors, and hang sheetrock.
Well some friends of the family were getting rid of 5 chickens and a small coop. Very small coop. I think the inside is about 10 sq ft and the run is maybe double that for 5 grown chickens.
Well I decided we needed a bigger coop, so off to the store I went with a plan in mind after perusing this forum for about 2 weeks. Going to be a run-under-coop design that will have the run space of 14' x 4' and a coop size of 4' x 6' not including any nesting boxes or higher level roosting bars and maybe a small removable 2nd level, since the roof will be plenty tall.
Going with a side slant roof instead of a pointed one since the way the trees are in the yard and with the deck I didnt feel we needed a slanted one. However that may change as I go to cut the metal roofing.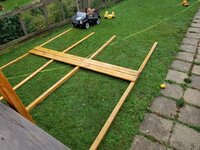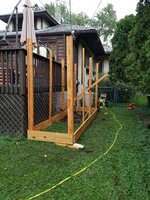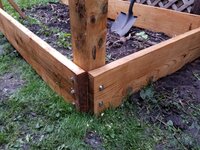 The run side boards are 2"x10" and the coop posts are 4"x4". Goal is to deep bed the coop and run as well as have the coop flour handle my 250 lb frame when needed. So it may be a BIT over engineered but I would prefer that over the latter and me falling through the floor.
The doors will be tricky since I want the poop door to be integrated into the large door that will give me access to the coop. Or I may just make the door to the coop over the chicken run entrance. Haven't quite decided yet....
The run will be enclosed in hardware cloth and I need to level it out, but will have hardware cloth buried along the 3 exposed sides. Going to take a few weeks as I work weird shifts with what I do, but I enjoy building, my boys enjoy the ability to help (most times), and my wife enjoys having the ladies outnumber the guys in the house finally!