I gather eggs twice a day.. once in the Morning at 9am when I let the girls out for the day, then I only get a few since it's so early; then I gather again at 7pm when they go in for supper & bed... that's when I get the "main haul" of 18- 24 .
Last night, about 20 minutes after the girls went in for the night, My daughter came running to the kitchen
"mom! Somethings wrong with the chickens! One is making a really strange noise- and the others are freaking out!"
I opened the back door to listen, and could tell SOMEONE was having a hissy-- but I have a couple who do that every time they lay an egg... and of course- the rest have to get involved.... so I wrote it off.
I went to get the 1st eggs this morning-- and WHAT A SUPRISE!!!
Can you see it???
Find The Suprise!
A Mix of Rock, Americauna & Silkie eggs
WOWIEEE!!!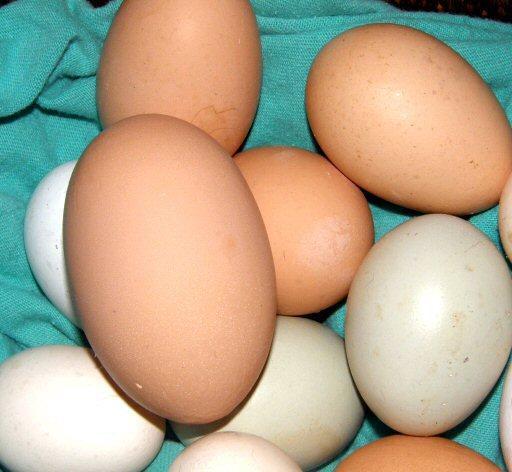 It's a Big UN!!! Weighed it up at 97 grams as compared to 2 large Rock eggs weighing 122 grams!