Welcome!
If you own any pet birds take a picture of them! And come on over because there is now
a contest made for them!
Rules:
· You must say if the bird is a pet bird (i.e. budgies, parrots, and cockatiels ect.)
· (if you know) Put the breed/mutation of the parakeet.
· Put the color or pattern the bird has
· Feel free to comment on the pics!!
The contest will have two categories: Cuties of the Show and Best of Show. There will be 1st place, 2nd place, and 3rd. ALSO, I NEED TO JUDGES TO HELP ME, THE FIRST TWO PEOPLE TO PM ME GET TO BE A JUDGE.
Here is an example on how the pics should be entered: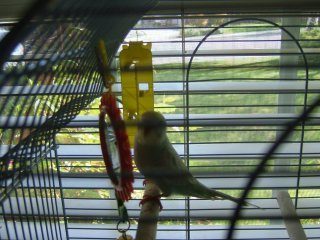 Bird: Budgie
Breed: ?
color OR PATTERN (YES, THATS RIGHT COLOR or PATTERN): Yellow and blue
HAVE FUN EVERYONE! AND GOOD LUCK!

Last edited: