Nov 16, 2018
1,749
9,878
471
Main Color Directory
Pearl-fee is said to have been created using falb-fees but I've also never gotten a throwback falb-fee from a pearl-fee (unexpected) and I'm a little unsure of the exact genetic mechanisms going on here. I will probably see if we can get JMF or any of the big guys who know more to chime in at some point. I
think
it's a simple or incomplete dominant gene with lots of modifiers acting on it.
They can express with either majority black or white patterning, and some lines also have golden-type markings mixed in, which makes me think it's possible that the black tipping is caused by the same gene golden italian/golden speckled lines carry, with a spectrum of base colors from gold to white possible depending on various other modifiers.
They're pretty hard to tell apart at birth, but here's a pearl (top) next to a golden type (bottom).
Mine are all what I call "dirty pearls", with a bit of gold mixed in.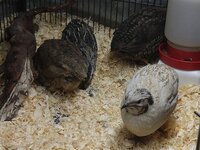 Pearl-fee + silver = "snowie"
Another interesting note is that while the above normally holds true, I have a normal looking silver male who's thrown both pearl-fee, silver, and snowie males (and the females line definitely didn't carry it). He must have some modifier masking the expression of the pearl genes but letting him pass them along to his offspring.

Have you got this color? Want to know where to find some? Noticed anything unusual about breeding it or any particularly interesting combinations with other colors? Have pictures to share? Join in!
Last edited: