🐓🦆For the Birds!🦆🐓
Project Manager
Premium Feather Member
7 Years
Feb 9, 2015
49,384
135,512
1,702
My Coop
Well, I finally broke down and got some pigeons! Yeah!

I've been breeding chickens and ducks for a few years now (also previously had turkey and quail) and I have 3 budgies indoors, but I decided I wanted some pigeons. So I found a fella close to me that had some fantails, which were the first pigeon to ever catch my eye and make me say "I want some of those!". Turned out that he also had a pair of Satinettes, and once I looked those up, I was hooked! So I met up with him last weekend. I got the pair of Satinettes, and he also had some parlor rollers. After looking at the fantails, I decided I liked the parlor rollers better, so I came home with the pair of Satinettes and a pair of parlor rollers.
Being not so new to the chicken world, but brand new to the pigeon world, I'd like to invite you to share your experiences with me. Major differences in raising pigeons as opposed to chickens, etc, etc. Especially pigeon specific stuff that non-pigeon people probably never thought of, etc. I've been reading many of the pigeon related threads here, but hate to hijack them with a bunch of my questions, so here we go..... tell me, tell me.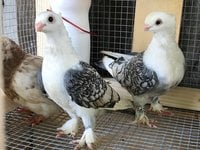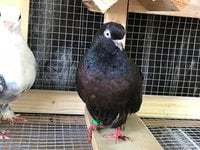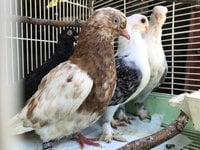 I'm also twisting the arm (*wink, wink*) of
@Fields Mountain Farm
and
@shawluvsbirds
to get some pigeons too, so we decided we could hopefully learn this stuff together.