I have been building a new run and coop for my son's hens for most of the last year! I have finally managed to get the whole thing to a habitable and almost complete standard.
My brief was, using the least expensive method, design and build a secure, easily cleaned and safe environment for the hens. Area had to be 2.5m x 2.5m and under 3m height.
I also wanted to free up shed space from the feed, cleaning materials and bedding by incorporating a store up out the way of pests.
The eventual plan was to add rainwater collection, and automation based on light levels to open and close the coop, all off grid.
The start was a rough Google Sketchup model of the basic idea.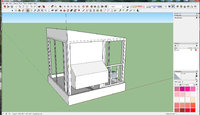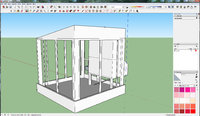 I then set about working out the amount of welded mesh i would need to buy.
Cue an impulsive buy on
eBay
of some 10mm galv welded mesh. £35 (purchase 1)
Next was timber, now fortunately for me, we have an abundance of 3m long pallets with 48mmx75mm runners on them from suppliers of materials. Load the car up a few times and hey presto, loads of free (for fuel) wood.
Stripped down, with some help!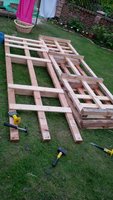 Plenty to get on with, so some sketches and rough plans put together, cleared and finished the base frame to begin with the uprights.
Allow some time to elapse and I continued with the cutting, drilling, screwing, undoing, re cutting...
Big cube structures are wobbly, so bracing also went in.
Build up the panel Base to allow deep litter method, plenty of spare boards from the pallets.
Continue as above leaving a doorway.
We kept a load of slate battens when we had a problem with the roof and got a load replaced.
That made the door.
Most of the wood is fairly suitable outdoors, but we painted it anyway.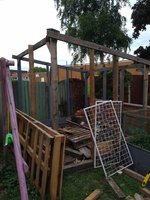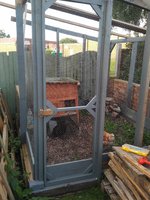 Mesh stapled in place and cut to size.
Used some leftover project bits as a place holder for the eventual coop build.
Old coop put into the run temporarily.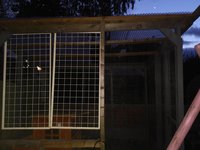 Corrugated plastic roof in place. £40 homebase. (Purchase 2)
Lasted about a month before gales blew most of it away.
Also had a visitor who needed some help as flight was not a skill yet! Almost forgot about this so it is chronologically in the wrong place.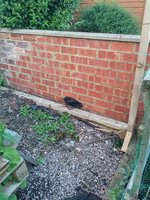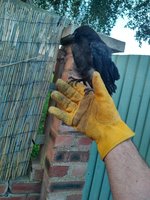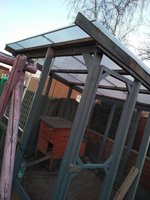 New lexan double wall roof, £130 (Purchase 3)
This one is solid. Well worth the money.
Next job was figure the coop out.
Decided on more slate battens, easyedge or CLS timber for the structural strength.
Marine ply for the walls and floors.
£98 (Purchase 4)
Idea was to allow simple cleaning, so most of the internals are completely removeable.
All best boxes slot together and into the floor.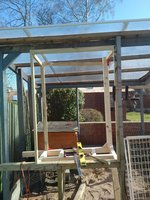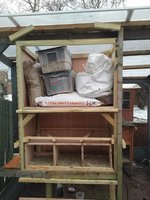 Then add access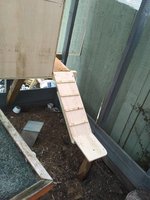 Doors are to be made yet.
Solar panel and charge controller are on the way £23 (Purchase 5)
So far a lot of coop for not a lot of money.
I'll update as further changes are made.