Apr 17, 2009
2,123
62
191
Okay, so out of my three mallard babies - Sunshine, Rainstorm, and Lullaby - I lost my little runty white mallard, Sunshine. Then, I got worried because one of the other two, Lullaby, started squinting, had crusty, gunky eyes, and slept a lot. Now little Lullaby is giving me even more to fret about!
Lullaby's right eye is still icky. She scratches at it a lot, and has actually developed little bald patches above and below the eye. I think the itching is because I gave her a little bit of terramycin eye ointment, which goobed up her fluff - and she's very fastidious about preening and staying clean. After two days of terramycin, the crusty/gooey gunk cleared up and she got more active, but she still squints, so she's still getting plain eyedrops.
They're both about 6-8 days old, but Rainstorm is double little Lullaby's size. She
is
growing, but at about a quarter of the rate she should be. I had seen her eat starter crumbles from the feeder, but for some reason she stopped yesterday, and I noticed her poo was thin and clear, so I scrambled her up an egg with some poly-vi-sol, which she gulped down and went to sleep. She ate almost another half a scrambled egg this morning - but she
still
won't touch the crumbles in the feeder. If I dip her bill in it, she'll take a little nibble, rush to get a drink but won't go back to the feeder an eat on her own. It's almost like she doesn't like the taste - could it be that she doesn't like the brewer's yeast sprinkled on top?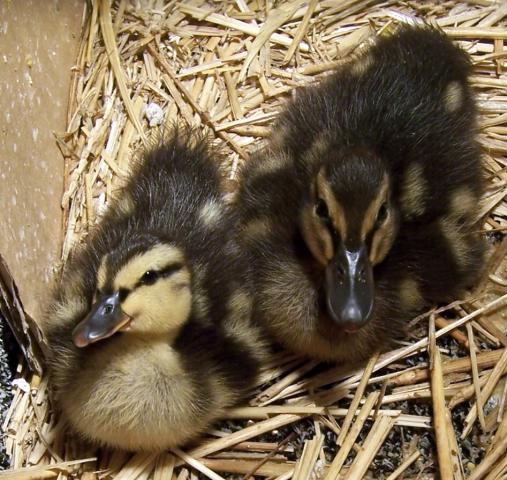 Lullaby is just as active as Rainstorm, when I gave them their nightly bath last night, they both zipped around like loons and splashed and preened - but I'm worried about her small size - Rainstorm is getting big enough that he gets a little pushy sometimes. I think I'm doing all I can do to help Lullaby catch up (any other suggestions are most welcome!), but, at this point, how worried should I be?
And WHY are these little mallards so difficult!

Last edited by a moderator: